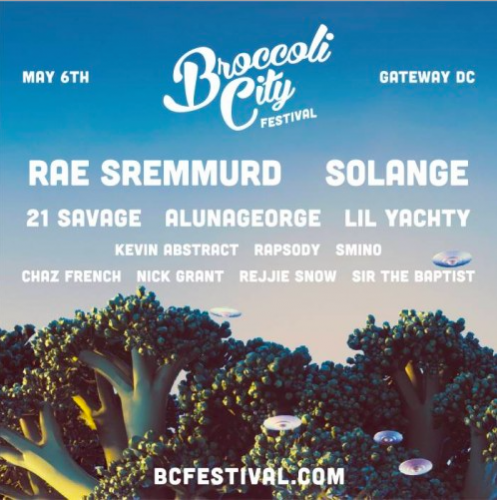 Broccoli City announced today, a diverse lineup of food vendors set to be featured at the five-year anniversary celebration of their flagship music festival on Saturday, May 6, 2017 at St. Elizabeth East Gateway Pavilion in Washington, D.C.. The organization's culinary team hand-selected eighteen food and drink vendors to complement an extended roster of live performances, interactive programming and healthy cooking demonstrations.
"Our goal has always been to be more than just a music festival and this year we're committed to proving that. Along with expanding to a full week of programming and events, we brought on a culinary team dedicated to curating a group of food and drink vendors who were committed to sourcing and serving high-quality ingredients and organic meat." said Brandon McEachern, founder of Broccoli City festival "There will be something for everyone – whether it's Turning Natural and Khepra's Raw Food vegan options or the more traditional Bareburger, The Big Cheese and Capital Chicken and Waffles."
New this year, Broccoli City presented vendors with "The Broccoli Challenge" to promote the importance of eating vegetables in a fun and approachable way. In addition to their signature offerings, the following vendors will include a special Broccoli-inspired option on their menu:
Bareburger: Crispy Broccoli with Asiago Cheese, Sea Salt, and a Lemon Wedge
FMK The Food Truck: White Broccoli Mac and Cheese
Pete's New Haven Style Apizza: Charred Local Broccoli Pizza
Khepra's Raw Food: Broccoli Bites
Puddin': Seasonal Veggie Po'bowl with Local Veggies Featuring Broccoli
Arepa Zone: Arepa with Stuffed Roasted Broccoli, Queso Fresco, and Mushrooms
Smoking Kow: Broccoli Slaw
Nappie Pies: Broccoli Cookie Sandwich
PoParazzi: Broccoli and Cheese Popcorn
Ruby Scoops: Kiwi Berry Agua Fresca
Other vendors include Buredo, Capital Chicken and Waffles, La Colombe Coffee Roasters, Sweet Crimes, The Big Cheese, The Crab Cab, Toli Moli, and Turning Natural.
"With food access being one of our core impact pillars, it was important that we found a way to extend our reach in the community through various partnerships." said Darryl Perkins, Broccoli City's Director of Impact "This year we partnered with Union Kitchen to provide a platform for local food entrepreneurs and will launch a virtual food drive with GiveHealthy to collect fresh fruits and vegetables for area food banks."
For tickets and more information please visit https://www.bcfestival.com/.
© 2017, Niyah Nel. All rights reserved.