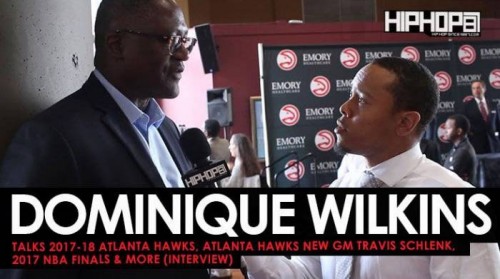 The 2017 NBA Finals are in full effect however teams not currently playing for the championship are making moves to place their teams in contention for the 2017-18 season.
On Friday June 2nd, following the Atlanta Hawks introductory press conference for their new GM Travis Schlenk, Terrell Thomas caught up with NBA/ Atlanta Hawks legend Dominique Wilkins.
We spoke with Dominique Wilkins on the Hawks new GM Travis Schlenk, the upcoming 2017-18 NBA season and more. Largely acknowledged as one of the best players to ever play the game of basketball, we also spoke with Dominique Wilkins about the 2017 NBA Finals and the level of competition during the 2017 NBA playoffs.
Before concluding our interview, we spoke with Dominique Wilkins on a recently poll by ESPN. ESPN voted the Atlanta Hawks classic red, white and yellow jerseys of the 1980's as one of the Top 5 sports uniforms of all time. Dominique Wilkins spoke on his love for those uniforms and spoke on hoping the Hawks bring them back soon for a night or two.
The interview was conducted by Terrell Thomas. The interview was shot by Danny Digitall.
Follow on Twitter and Instagram:
@DWilkins21/ @DominiqueWilkins21
@ATLHawks
@Eldorado2452
@HipHopSince1987
@DannyDigitall
© 2017, Eldorado2452. All rights reserved.