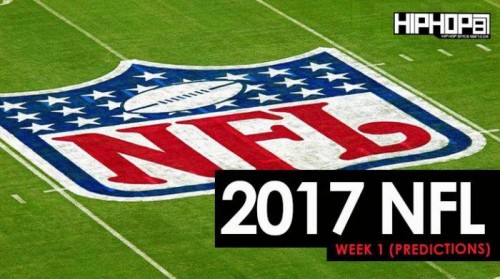 The 2017 NFL season is finally upon us and today there are several big games to keep NFL Football fans happy. Light the grill, put ice in the cooler, get the chips and dip and gear up for Week 1 of the year.
Due to Hurricane Irma that is scheduled to hit Florida, the Tampa Bay Bucs and Miami Dolphins matchup has been moved to Week 11. Other that those two teams, every other NFL franchise will be or has been in action this week.
There are a few big games to keep your eyes on this week. The Eagles vs. Washington could be a interesting matchup. Outside of the Birds and Washington, the Raiders vs. Titans, Browns vs. Steelers, Seahawks vs. Packers and Giants vs. Cowboys should all be great matchups. Before the games kickoff this afternoon and evening, checkout My Week 1 (Sunday and Monday) predictions and Fantasy Sleepers below. Stay tuned to HHS1987. Follow @eldorado2452 on Twitter and Instagram for all your NFL and sports news.
NFL WEEK 1 (Predictions & Fantasy Sleepers) 
Jets 10  Bills 31 (Fantasy Sleeper: Jordan Matthews)
Eagles 27  Washington 13  (Fantasy Sleeper: Torrey Smith)
Raiders 24  Titans 27 (Fantasy Sleeper: Marcus Mariota)
Jaguars 17  Texans 31 (Fantasy Sleeper: Leonard Fournette)
Cardinals 35  Lions 20 (Fantasy Sleeper: Matt Stafford)
Falcons 42  Bears 17 (Fantasy Sleeper: Austin Hooper)
Ravens 17  Bengals 27 (Fantasy Sleeper: Joe Mixon)
Steelers 33  Browns 21 (Fantasy Sleeper: Deshone Kizer)
Colts 17  Rams 20 Fantasy Sleeper: Sammy Watkins)
Seahawks 20  Packers 23 (Fantasy Sleeper: Marty Bennett)
Panthers 31  49ers 21 (Fantasy Sleeper: Carlos Hyde)
Giants 24  Cowboys 27 (Fantasy Sleeper: Eli Manning)
Saints 20  Vikings 27 (Fantasy Sleeper: Michael Thomas)
Chargers 28  Broncos 23 (Fantasy Sleeper: Melvin Ingram)
© 2017, Eldorado2452. All rights reserved.