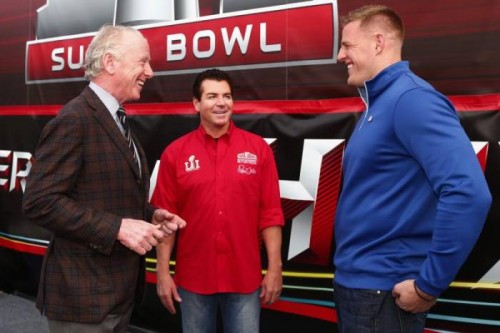 Somethings you just can not make up. This has been a wild NFL season largely due to off field issues and it appears one of the NFL's biggest sponsors is speaking out…. Sort of!
On Wednesday, Papa John's CEO John Schnatter came out with claims that players on field protest have hurt sales for his pizza business. "The NFL has hurt us," company founder and CEO John Schnatter said. "We are disappointed the NFL and its leadership did not resolve this."  
We recently addressed Papa John's CEO John Schnatter's comments on My podcast These Urban Times:
According to ESPN:
Executives said the company has pulled much of its NFL television advertising and that the NFL has responded by giving the company additional future spots. Later in the day, a spokesman clarified that the spots themselves weren't being pulled, just the NFL shield or "official sponsor" designation on those spots.

"Leadership starts at the top, and this is an example of poor leadership," Schnatter said, noting he thought the issue had been "nipped in the bud" a year and a half ago.

In revising sales estimates for the next quarter, Papa John's president and chief operating officer Steve Ritchie said on the call that the NFL deal was the primary suspect behind the decline and that "we expect it to persist unless a solution is put in place."

Ritchie said that research has found that Papa John's has been the most recognized sponsor associated with the NFL for two years running, which he said means the company's performance can track with that of the league.

Papa John's has a deal with not only the NFL, but also with 23 individual teams.

Company executives declined to disclose exactly how much money in projected sales Papa John's lost from its association with the NFL and declining ratings, which mean fewer people are ordering their product for game days, they said.

Papa John's stock was down 8.5 percent on Wednesday.
Stay tuned as more details come forward. Stay tuned to HHS1987 for all your new music. Follow @eldorado2452 on Twitter and Instagram for all your music and entertainment news.
© 2017, Eldorado2452. All rights reserved.