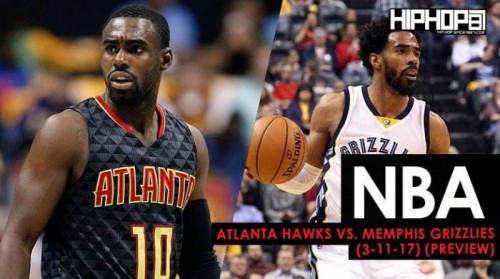 On Saturday March 11th, the (36-29) Atlanta Hawks are hitting the road for the second game of their weekend back to back as they head to Memphis to face the (36-29) Memphis Grizzlies.
The Hawks are currently on a two game winning streak after defeating both the Brooklyn Nets and Toronto Raptors in their final two home games of their six game home stand. In the Hawks win versus Toronto on Friday night, Dennis Schroder continued to be impressive scoring 26 points with 5 assist. The Hawks were struggling to defend the three point line recently but looked much better on the defensive end last night versus the Raptors. Paul Millsap was consistent as usual on Friday night scoring 21 points and setting the tone for the Hawks.
The Memphis Grizzlies come into Saturday night's game looking to snap a four-game losing streak. The Grizzlies four game losing streak is their longest of the season. The Grizzlies most recently suffered a (114-98) home loss to the Los Angeles Clippers. The Grizzlies are currently the sixth seed in the Western conference. Marc Gasol leads Memphis in scoring averaging 20 points per night. The matchup between Marc Gasol & Dwight Howard could be key to the outcome of the game. The Grizzlies have allowed more than 110 points to their opponents during their four game losing streak and will need to tighten up on the defensive end if they want to win today.
Tonight will mark the first meeting between the Atlanta Hawks and Memphis Grizzlies. The game will tip off tonight at 8pm CT/ 9pm EST. These two teams will meet again next Thursday (March 16th) in Atlanta at Philips Arena.  The Hawks will be back on the road on Monday night to face the San Antonio Spurs. If your in the Atlanta area you can watch the game on Fox Sports South or listen to the game on the radio at 92.9 the game.Stay tuned to HHS1987 for more NBA news. Follow @eldorado2452 on Twitter and Instagram for all your Atlanta Hawks, NBA and sports news.
Follow On Twitter/Instagram:
@ATLHawks
@MemGrizz
@Eldorado2452
@HipHopSince1987
© 2017, Eldorado2452. All rights reserved.