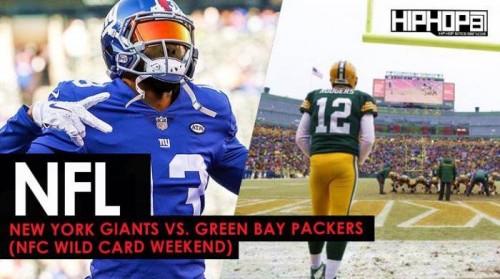 The 2017 NFL Wild Card weekend will wrap up with a battle of former Super Bowl MVP's. The last football game of the 2017 NFL Wild Card weekend features Aaron Rodgers and the (10-6) Green Bay Packers hosting Eli Manning and the (11-5) New York Giants.
The Green Bay Packers and their MVP quarterback Aaron Rodgers are on a six game winning streak and come into the NFL postseason as one of the hottest teams over the last 2 months. The Packers offense must come out clicking if they want to move on to the next round. Today I expect Packers quarterback Aaron Rodgers to pass for over 250 yards and 3 touchdowns. The Packers rushing game will be limited today thanks to the play of the Giants defensive line so Rodgers must carry the Packers to a win. Look for Packers tight end Jared Cook to be huge in this game. Cook will account for over 100 yards and a touchdown.
For the New York Giants, Eli Manning is no stranger to starting off in the Wild Card round and advancing to the Super Bowl. The Giants high priced defense has played extremely well over the past few weeks and I expect that to continue today. Look for Eli Manning to pass for over 300 yards and 3 touchdowns today. Giants wide receiver Odell Beckham Jr. is making his NFL postseason debut and he was be key to the Giants picking up a victory today. Beckham will catch over 9 passes for over 120 yards and two touchdowns. The Giants defense will force 2 interceptions today and a late sack will seal the deal for the Giants. Tonight, I'm going with the road team. Stay tuned to HHS1987. Follow @eldorado2452 on Twitter and Instagram for all your NFL and sports news.
Packers 24 Giants 28
© 2017, Eldorado2452. All rights reserved.