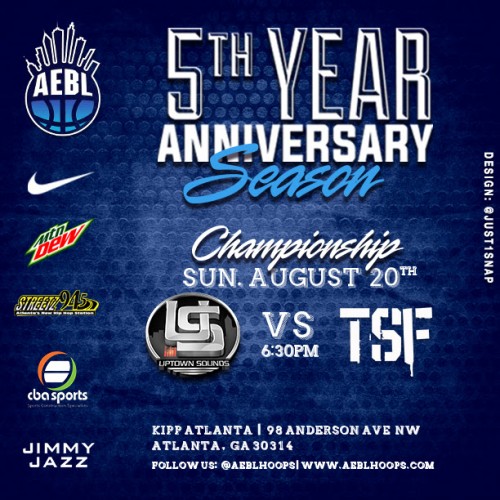 Today the city of Atlanta will witness one of the most epic summer league championships at the Atlanta Entertainment Basketball League (AEBL). Two of AEBL's top teams will compete in an All or Nothing championship game. Clippers own Lou Williams' Uptown Sounds squad added Superstar PG Kyrie Irving (Cleveland Cavaliers) and Montreze Harrel (LA Clippers) to their roster for this evenings matchup against Undefeated and #1 seed The Skill Factory (TSF) featuring NBA standouts Taurean Prince (Atlanta Hawks) Mike Scott (Washing Wizards) and Shelvin Mack (Orlando Magic).
In celebration of the 5th Anniversary season championship weekend, AEBL will host a series of festivities to continue entertaining their loyal crowd of basketball fans. Sunday features a high school tournament with Mountain View High School taking on New Faith Sunday at 4pm, a Celebrity/Influencer game at 5pm, 3PT & Dunk Contest at 5:30pm and the GRAND FINALE Championship Game Uptown Sounds vs TSF at 6pm.
Stay tuned to HHS1987 for more NBA news. Follow @eldorado2452 on Twitter and Instagram for all your NBA and sports news.
© 2017, Eldorado2452. All rights reserved.