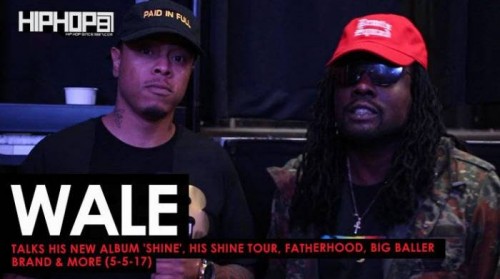 Hip-Hop artist Wale is on a mission to make this one of his best years yet. On Friday May 5th, DMV native/ MMG wordsmith Wale kicked off the first leg of his "Shine" tour here in Atlanta at the Tabernacle. Following Wale's performance, HHS1987's Terrell Thomas (Eldorao) caught up with Wale to discuss a few new endeavors in Wale's career.
With Wale's new project 'Shine' currently out in the streets, we spoke to Wale about the creation process behind his fifth solo album and the vibe he was looking to deliver with 'Shine'. Wale spoke on wanting to do something special for himself with this project. He gave us some insight on why he choose some of the production for 'Shine' and he broke down his record "Colombia Heights", a hip-hop track with a twist.
Embarking in new steps in life having recently became a father, we also spoke with Wale on Fatherhood and how it has changed him as a man and as an artist. Wale spoke on how being a Dad ha strengthened his hustle and helped him develop a plan for the next five years of his career. Before concluding our time with Wale, we spoke with him on the 2017 NBA playoffs and we discussed the hype surrounding the "Big Baller Brand" athletic apparel company. Having a love for sports and sneakers, Wale gave us his picks for the 2017 NBA Finals, spoke on Kevin Durant and the Washington Wizards and he gave us his thoughts on the hype surround the $495 'ZO2 Prime' Big Baller Brand sneakers.
The interview was conducted by Terrell Thomas. The interview was shot by Danny Digital.
Follow on Twitter/Instagram:
@Wale
@Eldorado2452
@HipHopSince1987
@DannyDigitall
© 2017, Eldorado2452. All rights reserved.