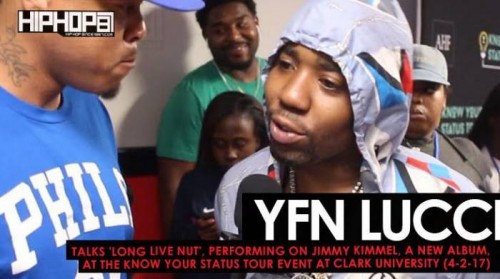 On Thursday April 20th, the "Know Your Status Tour" presented by the AIDS Healthcare Foundation made a stop at Clark University in Atlanta for a star studded panel. The "Know Your Status Tour" is a event that will stop at multiple HBCU's across the country to discuss the importance of safe sex and AIDS education through a open panel and live concerts. Celebrities and influencers such as Amber Rose, Karen Civil, Cordell Broadus, Nina Parker and others have joined the tour to help spread the message.
One of the performers at the "Know Your Status Tour" on Thursday was T.I.G. rap artist YFN Lucci. Following YFN Lucci's performance, we spoke with Lucci about his recent success. YFN Lucci spoke on his new project 'Long Live Nut', his recent performance on the Jimmy Kimmel show, working on a new album and more.
The interview was conducted by Terrell Thomas (Eldorado). The interview was shot by Danny Digital.
Follow On Twitter & Instagram:
@YFNLucci
@KnowYourStatusTour
@Eldorado2452
@HipHopSince1987
@DannyDigitall
© 2017, Eldorado2452. All rights reserved.