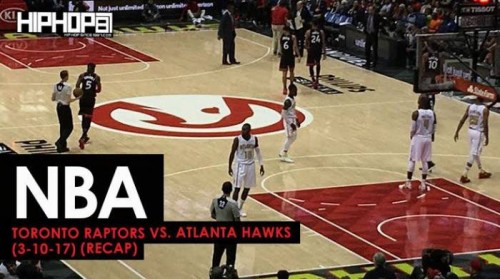 On Friday March 10th, the Atlanta Hawks moved on to a record of (36-29) after defeating the (38-27) Toronto Raptors (105-99) at Philips Arena.
Hawks point guard Dennis Schroder continued to shine scoring 26 points and controlling the pace for the Hawks. Dennis shot (9-18) from the floor with 5 rebounds and 5 assist. Hawks all-star Paul Millsap was efficient scoring 21 points on (7-13) shooting from the floor. Hawks big man Dwight Howard added 16 points and 10 rebounds while Tim Hardaway Jr. scored 20 points in his role as a starter after Thabo Sefolosha was benched to start the game for being late to player shoot arounds.
The Raptors were in the game all night long but they struggled shooting from behind the three point line. The Raptors shot just 16 percent from deep going (4-25) from the three point line. Raptors all-star DeMar DeRozan was Toronto's high scorer scoring 30 points on (12-20) shooting from the field. Serge Ibaka added 18 points and shot (2-5) from beyond the three point line. With all-star point guard Kyle Lowry out while recovering from injury, Cory Joseph has seen more minutes. Joseph finished with 15 points and 8 assist.
The Toronto Raptors vs. Atlanta Hawks matchup was covered by Terrell Thomas. The Toronto Raptors vs. Atlanta Hawks matchup was shot by Danny Digital. The Atlanta Hawks are back in action on the road on Saturday March 11th as they face the Memphis Grizzlies on the road in Memphis. Follow @eldorado2452 on Twitter and Instagram for all your Atlanta Hawks, NBA and sports news.
Follow On Twitter/Instagram:
@ATLHawks
@Raptors
@Eldorado2452
@HipHopSince1987
© 2017, Eldorado2452. All rights reserved.