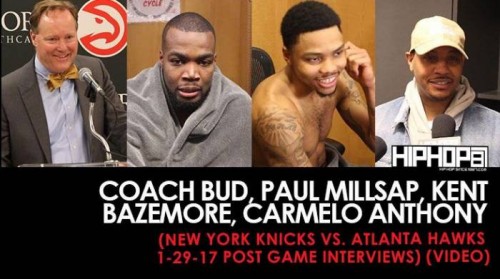 On Sunday January 29th, the Atlanta Hawks moved on to a record of (28-20) after defeating the (21-28) New York Knicks (142-139) in 4 overtime periods.
For the Atlanta Hawks, their all-star forward Paul Millsap had a career night. Paul Millsap played 6o minutes in the four overtime matchup and he finished the game with 37 points, 19 rebounds and 7 assist. Paul played a total of 60 minutes and  7 seconds almost tying a Hawks record of 61 minutes played. Kent Bazemore and Dennis Schroder also had huge nights for the Hawks. Kent Bazemore finished the game with 24 points on (9-15) shooting from the field. Dennis Schroder finished the night with 23 points and 15 assist as well as the game winning layup in the fourth overtime. Hawks big man Dwight Howard was also effective scoring 19 points and grabbing 13 rebounds.
Following the game, Atlanta Hawks head coach Coach Bud spoke on the outcome of the Knicks matchup, Paul Millsap's performance and more. We also spoke with Hawks stars Paul Millsap and Kent Bazemore. Both Millsap and Bazemore spoke on defeating the Knicks, Carmelo Anthony's 45 point night, playing in four overtime periods and more.
The New York Knicks were short handed on Sunday afternoon as Derrick Rose didn't play against the Hawks. With trade rumor swirling around Knicks star Carmelo Anthony, Melo went out and scored 45 points with 6 rebounds and 4 assist. Melo fouled out of the game in the second overtime period. Knicks guards Courtney Lee and Brandon Jennings stepped up and played big for the Knicks. Courtney Lee finished the game with 17 points including the three pointer that tied the game in the third overtime to send it to a fourth OT. Brandon Jennings finished the game with 18 points. Knicks sharp shooter Justin Holiday finished with 15 points.
Following the game we spoke with New York Knicks superstar Carmelo Anthony. Carmelo Anthony spoke on his 45 point performance, the final play of regulation, not paying attention to the trade rumors and more.
The Atlanta Hawks have two days off before tipping off a two game road trip that begins on February 1st. The Hawks play the Miami Heat on February 1 and they face the Houston Rockets this Thursday night on TNT. The New York Knicks are back in action on Tuesday January 31st in Washington D.C. against the Washington Wizards. Stay tuned to HHS1987 for more NBA news. Follow @eldorado2452 on Twitter and Instagram for all your Atlanta Hawks, NBA and sports news.
Follow on Twitter/Instagram:
@ATLHawks
@NYKnicks
@PaulMillsap4
@24baze/ @24Bazemore
@CarmeloAnthony
@Eldorado2452
@HipHopSince1987
@DannyDigitall
© 2017, Eldorado2452. All rights reserved.