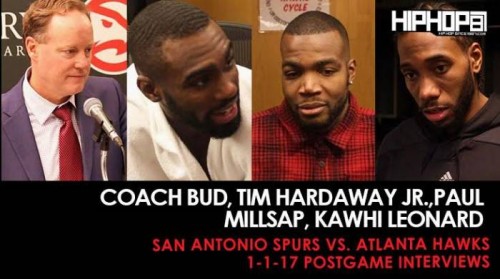 The New Year tipped off in grand fashion last night in Philips Arena. On Sunday January 1st, the Atlanta Hawks moved on to a record of (18-16) after defeated the (27-7) San Antonio Spurs.
The Hawks snapped a 11 game losing streak to the Spurs after their (114-112) victory in overtime. Paul Millsap and Tim Hardaway Jr. both played huge and were key in the Hawks win. Tim Hardaway Jr. was on a mission yesterday finishing the game tying his career high with 29 points. Following the game Coach Bud, Paul Millsap and Tim Hardaway Jr. all spoke on the Hawks breaking their 11 game losing streak to the San Antonio Spurs. Coach Bud spoke on the Hawks measuring up against the Spurs and how the team stay focused to get the win in overtime. Tim Hardaway Jr. scored 29 points and he highlighted hitting the game tying three pointer in the fourth quarter and Dennis Schroder's play down the stretch. Paul Millsap who finished with 32 points and 12 rebounds spoke on facing LaMarcus Aldridge and scoring 27 points in the second half of the game.
The Spurs led for most of the game but they never stretched their lead pass ten points. LaMarcus Aldridge and Tony Parker played big for the spurs. Spurs all-star Kawhi Leonard had a off night for his standards. After the game, we spoke with Kawhi Leonard on his performance against the Atlanta Hawks and more.
The San Antonio Spurs vs. Atlanta Hawks matchup was covered by Terrell Thomas. The San Antonio Spurs vs. Atlanta Hawks matchup was shot and edited Danny Digital. Stay tuned to HHS1987 for more NBA news. Follow @eldorado2452 on Twitter and Instagram for all your Atlanta Hawks sports news.
Follow Us on Twitter/ Instagram:
@ATLHawks
@Spurs
@Eldorado2452
@HipHopSince1987
@DannyDigitall
© 2017, Eldorado2452. All rights reserved.