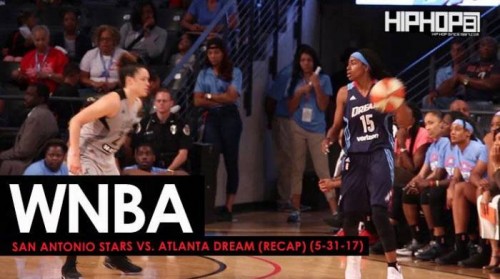 On May 31st, the Atlanta Dream moved on to a record of (4-1) after a (77-70) victory against the now (0-6) San Antonio Stars.
It was a big night offensively for the Atlanta Dream. Tiffany Hayes finished with 16, Bria Holmes finished with 15 points, Sancho Lyttle finished with 14 points and Layshia Clarendon finished with 13. Layshia Clarendon also finished with a team-high 8 assists.
The Stars only allowed the Dream 36 points in the first two quarters, the fewest points they have allowed an opponent in a first half this season. San Antonio previously allowed 37 at New York on May 13.
The Dream will be back in action on June 4th as they hit the road to face the Washington Mystics. Checkout a few post game quotes from Atlanta Dream head coach Michael Cooper below. Stay tuned to HHS1987 for more WNBA news. Follow @eldorado2452 on Twitter and Instagram for all your Atlanta Dream and sports news.
Coach Michael Cooper
On the win:
"We played against a team that was fighting real hard, trying not to stay undefeated. In those types of games, it's not necessarily about what you do but who you are."
On the second half improvements:
"We had to just make the game easy for ourselves. We played team basketball, we had 18 assists and were able to get back into the game."
On Layshia Clarendon:
"Layshia's our leader, our coach on the floor, an extension of myself, so she kept us calm and kept us in things."
On team basketball:
"When we play team basketball, we're hard to beat."
© 2017, Eldorado2452. All rights reserved.