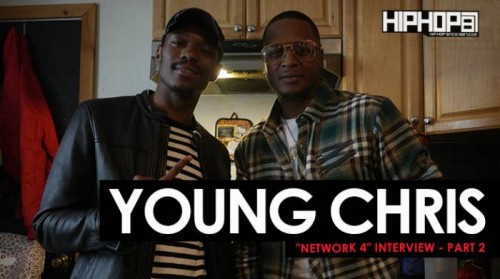 A few weeks ago, Philly's own Young Chris dropped his new project "Network 4". The project has received great reviews online and in the streets worldwide. It only made sense that HipHopSince1987 would link up with Young Chris for a classic interview to talk about his new project as well as a bunch of topics that his fans have been dying to hear him talk about.
HHS1987's E-Money & Rick Dange went to Young Chris' hood in Nicetown and linked up with on his block. In Part 2 of this interview, Young Chris picks up where Part 1 ended, and breaks down the world famous battle between Freeway and Cassidy. Chris talks about exactly how the battle was set up and how Jay Z & Swizz Beats picked who would battle Cassidy. Chris goes on to talk about beef in Philly as well as tension among his inner circle. E-Money and Young Chris touch on the beef between Birdman & Lil Wayne. Chris also goes in to detail about his good friendship with Lil Wayne and talks about their history together, as well as how he almost signed to Young Money.
A lot of people don't know that Young Chris now has his own imprint "Nicetown Entertainment". Chris breaks down his company and talks about looking for new artists to sign. Before we wrap up the interview, Chris talks about his former CEO's Dame Dash & Biggs, and details the important roles they each played in his career.
Checkout this exclusive interview NOW as well as part 1 of this interview!! And make sure you download or stream "Network 4" NOW if you haven't already!!!
This interview was shot & edited by HHS1987's own Rick Dange.
Follow Us on Twitter/Instagram at:
@YoungChris/@YcGunna
@HipHopSince1987
@EmoneyBeatz/@BeatEmUpMoney
@RickDange
© 2017, RickDange. All rights reserved.