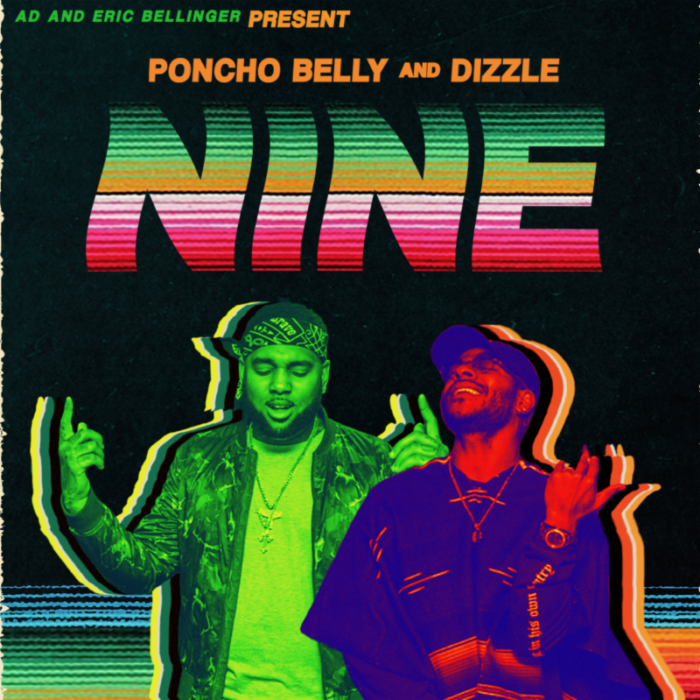 Rising rapper Dizzle and loved R&B singer Poncho Belly just released their debut album NINE, a melodic and upbeat project covering the highs and lows of women, money, and life as they know it. When these two unknown names dropped single and video "Pullin Up," many fans wondered how two newcomers could be so comfortable in the spotlight. But after a spontaneous meet-and-greet at Calle Tacos last week, and the flyest bowling night ever. things became clearer.
Beyond the "Pullin Up" release, a cloud of mystery (or is that smoke?) has surrounded Poncho Belly and his classy-hood amigo Dizzle, and as the crowd gathered in Hollywood around a neon-green i8 with "ITSEAZY" on the plates last week, the truth came out. Grammy-award-winner Eric Bellinger and collaborator AD created the characters "Poncho Belly" and "Dizzle" while recording their NINE concept album, and have now adopted their aliases full-time as they release their new project to the public!
NINE starts off serious with "PATNA," a symphonic track that has Poncho wishing for a deeper connection: I'm not looking for a one night stand / I ain't playin, no / I'm not looking, no / Looking for a patna. Dizzle's flow sets a rhythmic focus from the beginning, creating the perfect grounding effect for Poncho Belly's airy and acrobatic melodies. The album continues with a more light-hearted vibe on "PULLIN UP," "DRIPPY," "FACETIME," and "EDIBLE," four tracks that celebrate sexiness as only Poncho and Dizzle can. As Belly praises the "waterfall" in his bed on the "DRIPPY" hook, Dizzle picks up where he left off without missing a beat, rapping, When I'm in it, switch positions / Imma have you on the wall / In my bed it's TLC / Cuz I be chasing waterfalls…The flawless production from Billboard Hitmakers carries through the final tracks, as both artists wish for a second chance with the ones that got away on "TEXT ME BACK" and then delve into the topic of loyalty on "IN LINE" and "LUH ME," songs about avoiding temptation and finding love with the one who makes you feel better than anyone else.
Right before the public finally got to experience NINE in its entirety, Poncho Belly and Dizzle had a next-level bowling party as they filled their local lanes with rappers, singers, Wild N' Out dancers and more to celebrate the drop. Peep the fun-loving photos below that capture Eric Bellinger and AD living their Poncho and Dizzle characters alongside Adrian Marcel collaborator and singer Jane Handcock, rappers Wale, Bhad Bhabie, Joe Moses and Kap G, Wild N' Out stars NickNPattiwhack and DanRue, Love & Hip Hop Hollywood producer RoccStar, and LA's "The Element" show host DJ Carisma.
© 2018, Seth Barmash. All rights reserved.