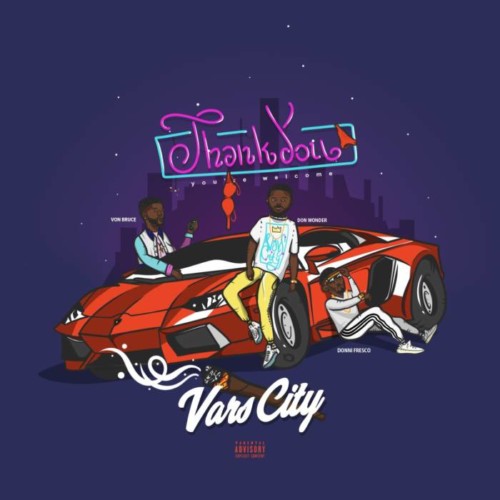 Vars City, the charming yet provocative triumvirate hailing from the 609 of South Jersey, premieres their new EP Thank You, You're Welcome, after months of anticipation following EP CitySide. Recorded, mixed, and mastered in-house by members Von Bruce, Donni Fresco, and Don Wonder, the trio continues to show and prove that their talents go beyond the pen and pad.
Contributing production from Hola Moofy (Hurt, Home, and Pave a Way), C-Flat (Nice Car), and Magestick (Vices)– Vars City pairs their dominant vocals with the likes of Bryce Silver (LA) and The VZN (NJ/LA). This 6 single EP shares an abridged, yet deep essence of industry and personal trial-and-triumph, through stimulating lyrics coupled with alluring melodies.
Thank You, You're Welcome houses stand-out tracks Vices, Nobody, and Pave a Way–each single honing a unique vibe through notable cadency and rhythm.
Take a listen and enjoy below.
Follow on Social Media (as mentioned)
@VarsCity609 (@vonbrucey, @donnifresco, @donwonder)
@holamoofy
@ssmcflat
@magestickrecords
@b_silver_music
@the_vzn
© 2018, Amber Corrine. All rights reserved.