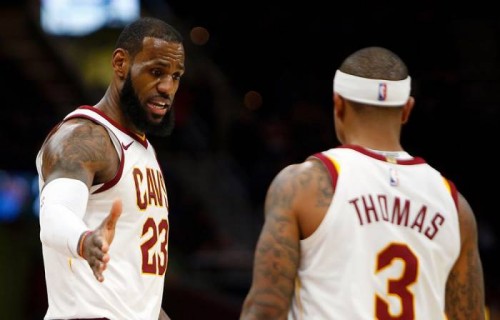 What a day in the world of Sports. While most of the sports community were tuned in to the Super Bowl parade taking place in Philadelphia, in the NBA, the Cleveland Cavaliers were hard at work.
Just a few hours before the NBA trade deadline, the Cavs made three sets of trades to get younger as they look to make a playoff push. First, on their list was guard Isaiah Thomas. Thomas was traded to the Los Angeles Lakers. Thomas, Channing Frye and the Cavs own 2018 first round pick were traded to the Lakers in exchange for Jordan Clarkson and Larry Nance Jr.
Following that trade the Cavs continued to make moves. The Cavs along with the Utah Jazz and Sacramento Kings completed a three team deal that shook up the league. In the Cavs, Jazz and Kings trade, the Cavs received forward Rodney Hood and guard George Hill. The Kings picked up Joe Johnson, who will be bought out and Iman Shumpert. The Jazz received Jae Crowder and former NBA MVP Derrick Rose who also is going to be bought out and may sign with the Minnesota Timberwolves.
New-look Cavs:

Guards: Jordan Clarkson, George Hill, JR Smith, Jose Calderon

Wings: LeBron James, Rodney Hood, Kyle Korver, Cedi Osman

Bigs: Kevin Love, Tristan Thompson, Larry Nance Jr, Jeff Green, Ante Zizic@BryanKalbrosky on how they fit together: https://t.co/o2CFe7Aaqx

— Alex Kennedy (@AlexKennedyNBA) February 8, 2018
The Cavs weren't done yet. Completing a wild day in Cleveland, the Cavs also agreed to send former Miami Heat star Dwyane Wade back to the Heat in exchange for a future second round pick. With all these new moves for the Cavs the next question will be can these new pieces gel together in timer for a playoff push and was this enough to capture another NBA title.
The Cavs new roster will play together for the first time on Friday February 9th as they travel to Atlanta to face the Atlanta Hawks. Let Me know what you think. Who won today's big trades? Stay tuned to HHS1987.com. Follow @eldorado2452 on Twitter and Instagram for all your Atlanta Hawks, NBA and sports news.
© 2018, Eldorado2452. All rights reserved.