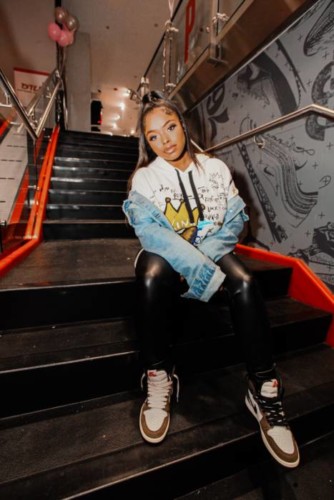 Philadelphia native Kay Amira, also always known as the cool girl next door, showcased her new EP, "Girl Next Door" at her listening party via DTLR this passing Saturday, Dec. 28, 2019. Girl Next Door releases Jan. 1, 2020, so just a few days before, Kay Amira's supporters were invited to come celebrate the new project with her.
Opening up for Kay, a few Philly underground creators performed their music for the crowd, warming up for the heat about to be played. Kayla Enfiniti, Philly's favorite cellist Aijee Evans, and Shay The Don all brought the stage some talent, all the while getting the crowd ready to hear Girl Next Door.
The EP itself is nothing short of an urban R&B vibe, and shows how much of a lane Kay has to herself. With sturdy samples and a calm vibe, when Girl Next Door is shared with the world the content will be hard to deny. Watch a short IGTV recap of the listening party below:
When asked how she feels about the upcoming release of Girl Next Door, her response was just a humble abode of motivation and sincerity for her art. She said, "It definitely feels great to be dropping some new songs in the New Year. I feel like this EP, Girl Next Door, is definitely a great representation of my growth and how far I've come and like you said, I've been at this for a very long time, this is what I'm passionate about and this is always what I've wanted to do."
A quick listen to Girl Next Door, will prove that. Keep up with Kay's release on Jan. 1, 2020. Girl Next Door will be available on all streaming platforms.
© 2019, alanna. All rights reserved.