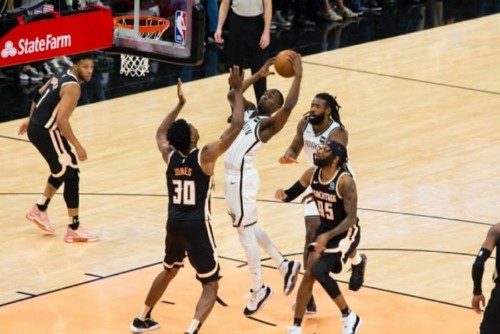 The Atlanta Hawks dressed in peach and black hosted the Brooklyn Nets tonight (Dec 4th) on their third "Peachtree Night" of the 2019-20 NBA season.
It was a productive first quarter for the Hawks. Cam Reddish came out the gate on fire scoring 5 points early. Reddish's hot start helped the Hawks jumpout to a (9-2) start. Hawks big man Damian Jones was impressive early as well. Jones was a force in the paint dropping 9 points and grabbing 2 rebounds in the first quarter.
The Hawks also added a familiar face back into the rotation on Wednesday night. With under 4 mins left in the first quarter, Kevin Huerter checked in the game. Huerter was scoreless in the first quarter.
🍑🌲 "Trae pulling up from the logo" @ATLHawks star @TheTraeYoung seems ready and focused for tonight's matchup against the Brooklyn Nets #TrueToAtlanta #NBA pic.twitter.com/h3le3tuEdv

— Terrell Thomas (@Eldorado2452) December 4, 2019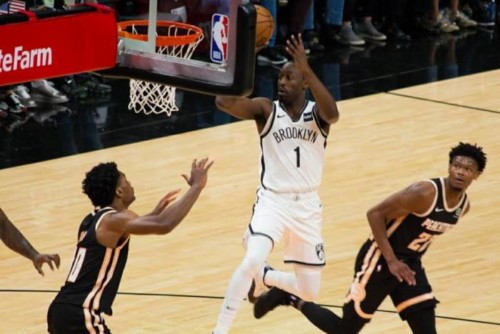 In the second quarter, we saw the Brooklyn Nets settle in and we saw former Atlanta Hawk forward Taurean Prince turn it up in the second quarter. Taurean showed us just how comfortable he is back at State Farm Arena. Prince was (6-11) for 15 points and 4 rebounds. Thanks to Taurean Prince's big first half, the Nets went into halftime with a (56-47).
The Hawks seemed to have a bit more "Energy" to begin the second half after Hip-Hop artist Big K.R.I.T performed his hit records "KRIT Here" and "Energy" during halftime. Despite trailing to start the third quarter, Trae Young came out and scoring 5 straight points to help spark a small run for Atlanta.
Surprised @BIGKRIT with a Peachtree crate before he hit the stage! 🍑🔥

That 19-20 Nike City Edition Peachtree Jersey is lookin' good! pic.twitter.com/4r4poiwsSZ

— Atlanta Hawks (@ATLHawks) December 5, 2019
After heading to the fourth quarter trailing, Atlanta Hawks fans saw a scoring explosion from Hawks rookie Cam Reddish. Reddish went on a mini-run scoring 5 straight baskets and getting the fans off their feet with a few sweet moves. The Hawks made a push to make it a close game but in the end, the Nets scoring was too much.
For the Atlanta Hawks, we saw great performances from both Damian Jones and Cam Reddish. Cam Reddish played the best game of his young NBA career. Reddish finished the night with 25 points on (10-17) shooting. Hawks big man Damian Jones added 20 points and 8 rebounds. Trae Young was the Hawks leading scorer 39 points and 10 assist.
For the Brooklyn Nets, former Hawks Taurean Prince had a big game. Prince added 23 points and 6 rebounds. Garrett Temple added 27 points and Spencer Dinwiddie added 24 points.
The Atlanta Hawks are off for the next few days as they prepare for a three game road trip where they will face the Charlotte Hornets, Miami Heat and Chicago Bulls. Follow @Eldorado2452 on twitter and instagram for all you Atlanta Hawks and NBA news
© 2019, Eldorado2452. All rights reserved.