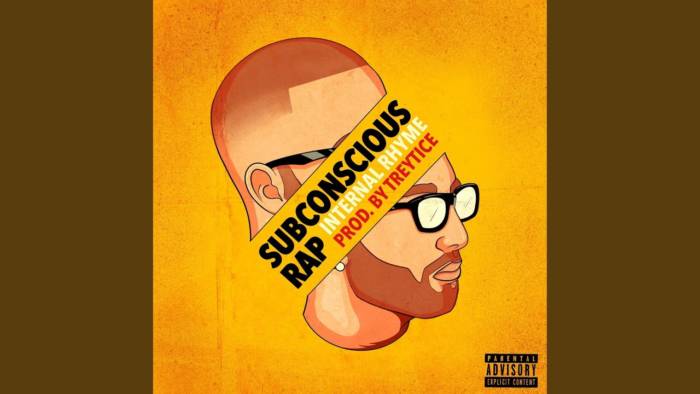 After years of teasing, Internal Rhyme and Treytice have finally released their collaborative album, "Subconscious Rap." The title is a play on Rhyme's struggle with his label as a conscious rapper. This album was a reminder to his fan base that he makes his own kind of music – one we might call "subconscious" – kind of conscious, kind of ignorant. Because in Rhyme's words, "the purest music expresses the dualities of being human." Sometimes we feel in touch with the activist inside of us, and then other times, we deserve a break. With a variety of complex production from Treytice, Rhyme manages to break out from his conscious box and reach deep into our subconscious.
Internal Rhyme sat down with HHS87.com at his exclusive listening session for this interview!
For the people that don't know you, tell them your name and where your
from
My name is Internal Rhyme, and I'm from the most beautiful city in the world – Philadelphia
How did you come up with your name?
I used to go by Jay-Gold in high school and middle school (my government is Jeremy Goldsmith). One day someone said to me "you're music is really good, but you need to change your name. Everyone is Jay-something." So I sat on it for a while, and eventually, this idea just popped in my head of Internal Rhyme – a technique I literally use all the time, and also an expression of my music that all comes from the soul.
How would you describe
your music?
My music is for those who scream and jump out of their chairs when they here a fire punchline. But it's also for those who do the Uzi shoulder dance at the club. I try to blend complicated lyricism with new-era beats and sounds. I used to be afraid to use auto-tune. Now I'm confident enough in myself to know I can experiment in nearly any way I want and still make beautiful music.
What separates you from other artists coming out of Philly?
I don't see any other artist in Philly who's able to make this good of music with this much literary technique. It's always been one or the other: you're a wavy youngul doing the "aye" flow over a trap beat or a old-school lyricist who can't part with the 90's. But me, I'm all of the above and a hell of a lot more. My fan base listens to a huge range of hip-hop, from Public Enemy, to OutKast, to Future.
What's been your biggest hurdle as you've been grinding with the music?
I'd say finding people who work as hard as I do. As modest as I try to be about it, the reality is that I outwork most people I know. And it took me a while to start finding folks who are as invested as I am. But lately I've got to say, I just feel like I'm doing the right thing. Everyone I've been creating with is dedicated to their craft day and night, not only from a creative standpoint, but also as a business.
Inspiration for project title?
"Subconscious rap" is a play on the concept of conscious rap. People always call me a conscious rapper, and with good intent, because I don't steer away from subjects like poverty, government policy, or human rights. But at the same time, my musical identity is a lot larger than just that. Not everything has to be conscious; some things are allowed to just be semi-conscious, or in this case, "subconscious." I also like this idea because most of my "woke" material on this project is hidden between lines in songs that don't sound very boom-bappy or positive. For instance, in You Already, the notable bop with Alex Wiley, I say:
"All I hear is loosie, loosie, loosie, loosie, loosie, it's like the mantra of my city/Selling dollar cigarettes just to pay the rent, ain't it evident we could all use a little pity?"
Fav song
It'll continue to change every day I'm sure, but right now it's Poppin'.
Least fav song
Not to be cliche, but I don't have a least favorite on this album. I really love every song on here, and any that I didn't love weren't included on the project.
Production history of project and process of making the album
3 years ago I dropped this vital Pokémon rap on Facebook and YouTube. A few weeks later, Treytice hit me on the random DM saying he came cross it, loved it, and wanted to work together. He sent me a few of his beats to check out and I was really amazed. This guy could really cook! And crazy enough, he's only a handful of years into production now. Like damn, it took me 14 years to get this good at rapping. But basically it started off with one song together, which ended up being Advise. After the initial chemistry was so high, we started cooking more and more music together, until eventually it became a whole project. So all together, we've been working on this since we "met" 3 years ago. It really speaks to the beauty of the age we live in. Treytice lives in Arizona, and we've never met in person. But now we talk all the time and constantly work together. The project was recorded, mixed, and mastered at so many different spots, including Kenny Shane's studio in NYC, Andrew Meoray's, The Sound Gallery, and Digital Crates' studio. A lot of great musicians helped bring this project to life, and it was amazing process.
© 2019, Seth Barmash. All rights reserved.