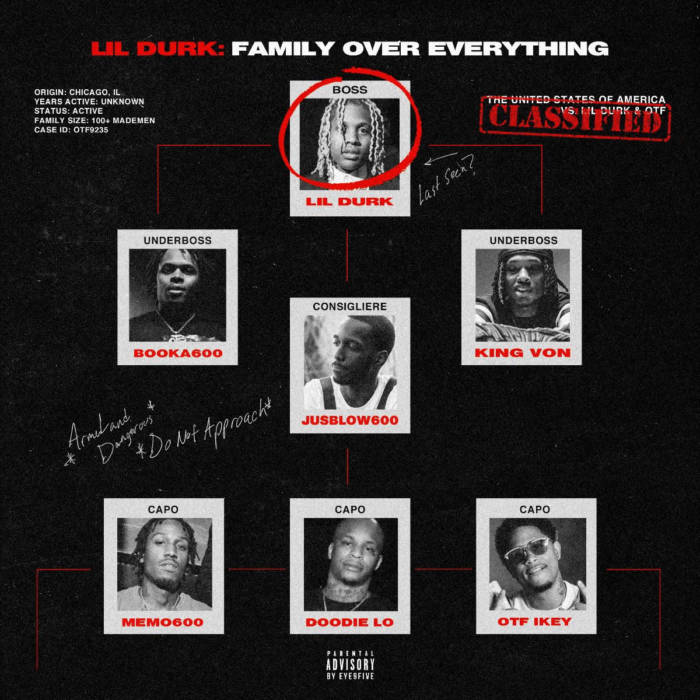 One of the more influential rappers of the 2010s, Lil Durk is getting his due as a major figure in melodic street rap. Recruiting his Only The Family roster and a series of all-star guests for a cold-weather romp, Durk shares Family Over Everything, a new project!
With a deep and talented crew of rising rappers, the OTF roster includes 
King Von
, the voracious storyteller who hit it big with "
Crazy Story
," the melodic mastermind 
Booka600
, who dropped his well-received 
Word To L.A.
 project earlier this year, and 
Memo600
, currently taking over the streets with his tough-talking bangers. The new project boasts new music from Durk and showcases the strengths of Von, Booka, Memo, 
JusBlow600
, 
Doodie Lo
, and 
OTF Ikey
, and offers standout guest appearances from some of Durk's kindred spirits, such as fellow Chicago natives Polo G and G Herbo, and Durk-indebted youngsters like NLE Choppa and Lil TJay.
The new tape boasts the recent single "
Riot
," which finds Durk, Herbo, and Booka600 decrying the Chicago government's antagonistic relationship with rap culture, as well as the frenzied drill anthem "
Blika Blika
," which received a breathlessly intense music video yesterday.
Family Over Everything tracklist:
1. Gang Forever (with Lil Durk & King Von feat. Jusblow600)
2. High Tolerance (with Lil Durk feat. NLE Choppa)
3. Brazy Krazy (with Lil Durk)
4. Career Day (with Lil Durk feat. Polo G)
5. They Be Talkin' (with Lil Durk & King Von)
6. The Hood (with Booka600)
7. Blika Blika (with Lil Durk)
8. On Stone (with C3)
9. Riot (with Lil Durk & Booka600 feat. G Herbo)
10. This A Story (with King Von)
11. Fake Love (with Lil Durk feat. Lil Tjay)
12. Whole Lotta (with Lil Durk)
13. Better (with MK)
14. One Mo Chance (with Lil Durk)
15. Bad Bitch (with OTF Ikey)
16. Hang Out (with Doodie Lo & Memo600)
© 2019, Seth Barmash. All rights reserved.