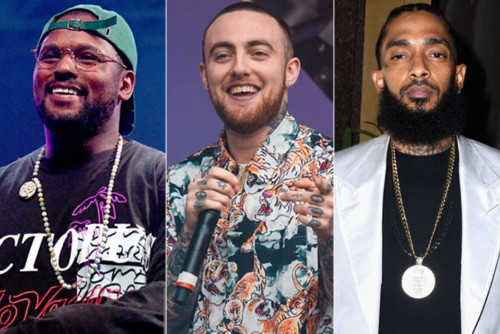 Schoolboy Q dropped his new album, "CrasH Talk" today. Accompanying the album is a booklet that includes two heartfelt tributes for his fallen friends, Mac Miller and Nipsey Hussle. In interviews, Q shies away from speaking on Miller but he took the opportunity, on this new album, to honor him. Also remembering Nipsey, Q writes: "Neva thought this day would come. Thanks for wat you done for this city."
scHoolboy Q thanked mac miller and nipsey hussle in the booklet for #crasHtalk 🙏 pic.twitter.com/UjcwEaNBVz

— Genius (@Genius) April 26, 2019
Full Nipsey Tribute:
"Us Growing up on different sides of tHe fence neva cHanged THe way u carried yaself wHeneva we would meet," adds Q. "We neva called eacH otHer or texted but tHe respect I Had for u can run a maratHon. Wat you did for yo community speaks volume. you did wat most of us inner city kids dont wHen we get paid, u stayed!! U built!!! And gave Hope to tHe people WHen u could've easliy left. no longer will I ignore tHe Help my city needs. A man tHat was supposed to grow up Hating me cHanged my life for tHe better. Even more tHan music and for tHat tHank u isn't enuff. I LOVE U and GODS neva die."
@
© 2019, MariaMyraine. All rights reserved.