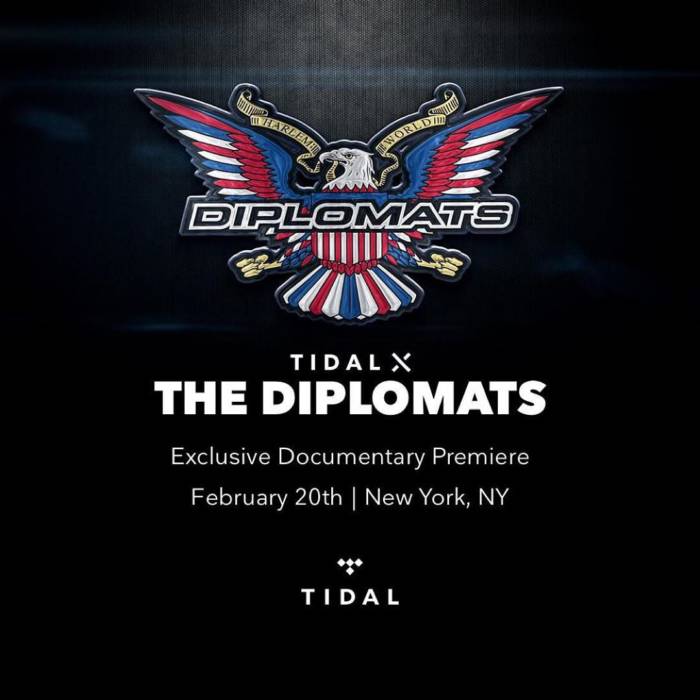 Coming off hot from a 14-year hiatus and the release of their new album Diplomatic Ties, tonight (2/20) cult rap group The Diplomats are partnering with TIDAL to release their new documentary, Diplomatic Ties. Starring Cam'ron, Jim Jones, Juelz Santana and Freekey Zekey,the documentary chronicles the group's success, their unique style & impact on hip hop, fashion and culture, as well as their Harlem roots and the build-up to the release of their third studio album.
Beginning tonight at 8pm ET fans can watch the documentary on: TIDAL.com/TheDiplomats
Throughout the documentary the group touches upon coming together to make Diplomatic Ties with Jim Jones saying:
"It feels good to be back with my brothers recording and doing new music. It's been a choppy road for the last umpteen years back and forth trying to get the Diplomat thing together, I mean really get it together as far as making a complete album, making a great effort. Recording is a little bit different now a days, but it's still a great feeling to be able to complete music with my brothers."
Diplomatic Ties is premiering tonight at an exclusive screening event in NYC for TIDAL members. The Diplomats documentary and screening event add to the growing list of exclusive content and unique experiences available for TIDAL members. The video further solidifies the platform's commitment to elevating the connection between artists and their fans by providing subscribers with more than just great music.
© 2019, Seth Barmash. All rights reserved.