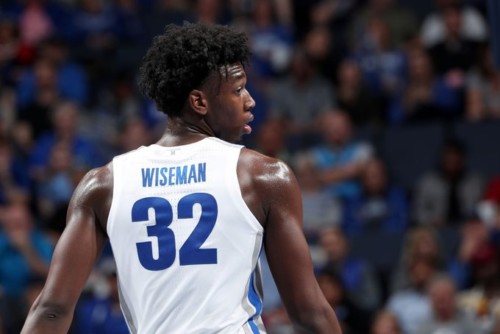 The NCAA strikes again.
Just hours before the Memphis Tigers matchup against UIC, news broke that the NCAA has ruled Memphis freshman James Wiseman ineligible.
The NCAA has ruled Memphis' James Wiseman ineligible, his lawyer, Leslie Ballin, said in a news conference.

Coach Penny Hardaway assisted Wiseman and his family's move to Memphis in 2018, and the NCAA has deemed Hardaway a booster via @espn #Memphis #Cbb pic.twitter.com/XJ0oJbf2We

— Terrell Thomas (@Eldorado2452) November 8, 2019
Before becoming Memphis head coach, Penny Hardaway paid $11,500 to help Wiseman and his family move from Nashville to Memphis. Wiseman was unaware of Hardaway's involvement however according to James Wiseman's lawyer Leslie Ballin, the NCAA feels Penny Hardaway was a booster at the time ruling Wiseman ineligible for the season.
Breaking News: James Wiseman will play tonight based on an emergency temporary restraining order

— DNASportsTalk (@DNASportsTalk) November 8, 2019
📚🏀 Possible #1 overall pick in the 2020 NBA Draft #JamesWiseman has been ruled ineligible by the NCAA.

However according to @dnasportstalk & @espn, Wiseman will play tonight after a judge put a temporary hold on the NCAA's ruling (🎥 @dannydigitall) #memphistigers #CBB pic.twitter.com/JZJRm8wptI

— Terrell Thomas (@Eldorado2452) November 8, 2019
Wiseman is playing tonight as Memphis host UIC (Illinois-Chicago) after a Shelby country court paused the NCAA's decision. Details are still unfolding on when and if the NCAA's ruling will be upheld.
Follow @eldorado2452 on Twitter and Instagram for all your sports news.
© 2019, Eldorado2452. All rights reserved.