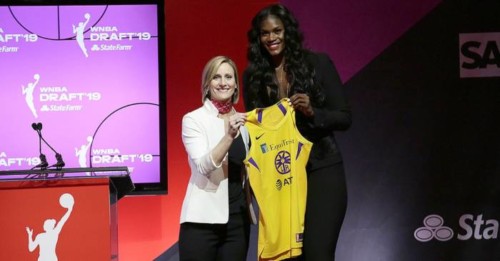 The Los Angeles Sparks have drafted 6-foot-7 center Kalani Brown from Baylor University with the seventh pick in the 2019 WNBA Draft. Brown is coming off an NCAA national championship this past Sunday when Baylor defeated Notre Dame. This past season, Brown averaged 15.6 points and 8.1 rebounds per game while shooting 61% from the field. Brown finished on the All-Big 12 First Team and All-Defensive Team.
"I'm excited to add Kalani Brown to our already talented frontcourt," Toler said. "Brown has championship experience coming off Sunday's national title game and gives us additional size, scoring, rebounding and provides us with a defensive presence in the middle."
Brown's storied career at Baylor includes winning Big 12 Player of the Year in 2018 when she averaged a double-double with 20.1 points and 10.2 rebounds per game.
"I'm stepping out of one legacy and entering another," Brown said. "The Sparks are a great team. I've watched their players growing up and I couldn't be happier. I'll do whatever I can to help the team."
Brown is the daughter of P.J. Brown, who played 15 seasons in the NBA and won a championship with the Boston Celtics. She is from Slidell, Louisiana. Follow @eldorado2452 on Twitter and Instagram for all your WNBA and sports news.
© 2019, Eldorado2452. All rights reserved.