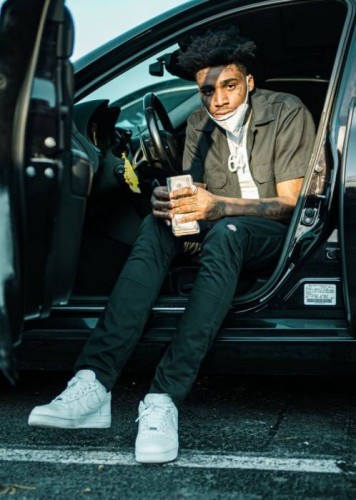 (written by Livengoodlivin) 
"Man, to be honest with you, while making music is fun it's about taking my mom out the hood and making sure my men are good,"
Goonew told me over an enjoyable Facetime in which I got to know a different side to him than he shows most people. Capturing a fantastic following with his unique whisper rap sound and charisma, Gonnew made this an enjoyable talk. He portrays a level of humility to him that few young emcees have. However, the rappers who carry it are often up next in the game, which makes Goonew a special breed. Stemming from the hoods of Forest Creek, Maryland, Goonew has seen quite the growth in following and acclaim over the past few years. Often making hits and selling out shows with fellow Maryland rappers Lil Dude and Keezah, Goonew prides himself on rapping for his brothers and not just himself.
"Originally, I wasn't even going to rap. My men pushed me into rap and I had a sound which people liked. Now I can see it's a gift I can use to take my mom out the hood and to change my life." – Goonew was telling me his purpose in making music.
My conversation with the young star brought a very concise point in my mind in which I hope nobody reads this can get, never judge a book by its cover. By appearance, some people might get intimidated by his facial tattoos and "hood" demeanor, however, he carries himself so professionally and is so respectful when we speak. It shows that the environment and upbringing doesn't determine the character of a person growing up. While yes, Goonew is not "sweet" for it by any means when it comes for him to flex his might. However, he is a trap rapper of class, and I appreciate that quality about him.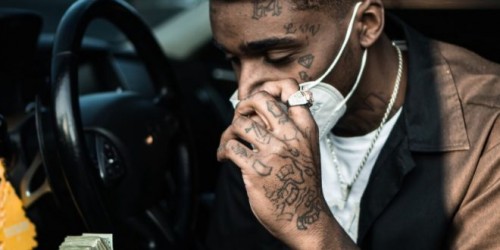 Some things that Goonew likes to do that people might now know about him is that he loves old school R&B, stays up all night working hard in the studio perfecting his sound, and high fashion brands like Balenciaga. Many young trap artists tend to forget that their fans are people like them as well, so it may be difficult for them to relate to them. Recently artists like Roody Ricch and Lil Durk have made it cool for artists who come from rough backgrounds to show their personalities. That's a trend I want to keep happening. For Goonew, he adds to that trend by being a shining artist that his fans can find semblance in music and life.
"I don't like it when people try to act all tough all the time. If you're really about that life, you don't force it. It's okay to have fun and be yourself. Like what you like and be proud of who you are, there is only one you." – Goonew on self love and awareness.
Combine his pristine mannerisms with a drive to showcase his personality, and you got an ascending star. His recent buzz and work effort have led him to move to California soon. Most people might be intimidated by moving, especially in his case where it's from the east coast to the west coast. However, Goonew is embracing the change. His ambitions of making it big, helping his mom and friends live a better life, and just advancing to the next part of his life.
"A new environment won't change me. Will I miss Forrest Creek? Yes, of course. However, my hood will always be there. The opportunity to be a star from the area and to give back to my community later in life won't, so I gotta make this move." – Goonew on embracing his move.
His journey has just started, and success has been brimming throughout the past few years. Be on the lookout for Goonew to continue to make hits and to show the world that hood artists are friendly too! His loyalty to his brothers and the love he has for his mother make him a natural person to root for even if you don't listen to his genre of music. He has a good spirit, and I wish nothing but the best for him. Currently, Goonew partnered with Lil Dude, and Keezah on a gritty new music video for the hit single "Mafia Lifestyle," which is off the well-received project Homicide Boyz 2. To keep up with Goonew, follow his Instagram here.
© 2020, Wilde Tuna. All rights reserved.