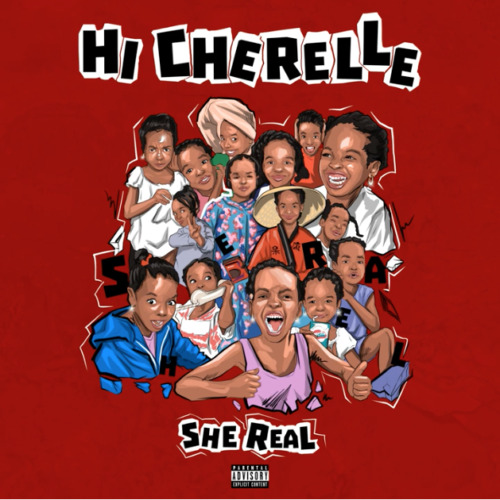 After reviewing and playing this project once on all platforms to check for sound quality, bars, production, unique and familiar features, and overall connectivity with the cultutre, She Real has allowed this project to easily sit amongst the top albums dropped this year. No disapointments on this project at all.
Back story i first met She Real In Brooklyn at Juniors she may or may not remember the video shoot with artist/actor Tone Trump from West Philadelphia. We exchange words even a quick cypher while waiting for the camera team and I was blown away by the presence and delivery she commanded. Few years later Im hit with an album and a hair style i couldnt forget. The Girl with the fly a** fro is back! I knew then she would be a problem coming out of New York and she proves why with this Clasic Project!
I highlighted a few songs that stood out and why below. Grading this project over with a letter grade A- which for a Solo album with no A list features but shows it is not impossble. Shout out to Harlem for birthing a tru emcee and Queen of her craft.
THE TRUTH
SHE REAL opens up track one of her project making it clear and firm she is "The Truth". If your a fan of Jay-Z, SHE will most likely make it into your playlist. Dropping heavy metaphors and similies with a savy flow and confidence, I hear the essence of HipHop in every bar and cadence. I wouldn't doubt her ability to stand toe to toe with the best in the game. She clearly knows who she is now its time for the world to recognize.
Love Everlasting
Opening up with the classic "Dead Presidents" flow another smooth delivery in this track with a much needed Jazz tribute an element often missing in todays current sound. Morals & Life Lessons, another lost art. How can we make our hurt and heartbreak sound good? Tune in to track 2 on "Hi Cherelle". Dont challenge her Hip-Hop I.Q. Due to her constant mention of the greats, samples of flows and cadence this track takes me back to the 90s with the Tribe Called Quest "Award Tour". After tuning in to this record give tribe a quick listen to honor the legends as SHE did.
Beautiful Day
FIRE UP THE GRILL! You aint Hip-Hop unless you got somthing for the DJ to spin at the cook out. What a beautiful day in black neighborhoods deserves the most colorful and creative music video to highlight the feeling of this song. To live this day every day is a dream we all have and im sure in this lifetime we will accomplish such. Rarely do i have the chance to play a song for the children of our culture without looking like the old head who always got some advice. So why preach when you can vibe, learn and reflect. This record is one of my personal favorites im sure this will be a visual hit.
Im Speedin'
Is your dreams worth the sacrafice or will your sacrafices be your ball and chains that hold you back. Is the time spent making life better for the family hurting them? Is the time spent home not chasing your dream hurting them more? Do you lead by example or coach someone to lead? Questions we all have wether school, work relationships etc all things are affected by your hustle. Finding the balance is the key to life and if not for the dope hook on this one I would have named it "Life". Somthing all those with ambitions can relate to.
TRACK RATINGS
TRACK ONE "THE TRUTH" 4/5
TRACK TWO "LOVE EVERLASTING" 5/5
TRACK THREE "BEAUTIFUL DAY" 5/5
TRACK FOUR "IM SPEEDIN" 4/5
TRACK FIVE "FU" 3/5
TRACK SIX "BEST FRIEND" 5/5
TRACK SEVEN "ALL HAIL THE QUEEN" 5/5
© 2020, Wilde Tuna. All rights reserved.