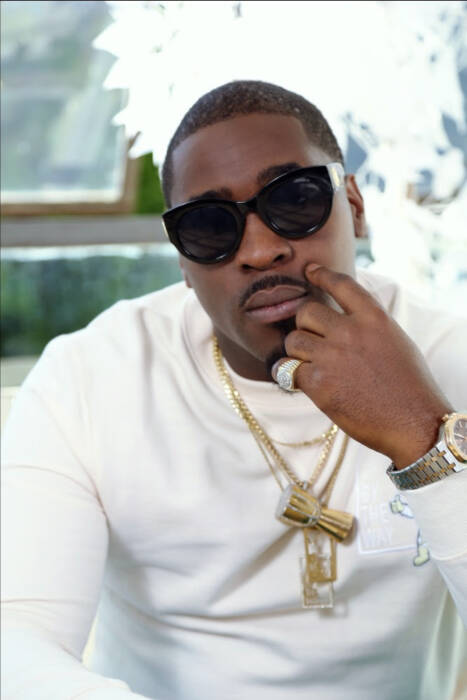 No stranger to prodigious acclaim across music genres spanning from Hip-Hop to Gospel and R&B to Afrobeat, Grammy Award-winning super-producer, songwriter, entertainer Bongo ByTheWay makes significant Q4 wins with his most recent productions on Ty Dolla $ign's Billboard-charting project Featuring Ty Dolla $ign with "Status" and "Everywhere;" R&B sensation DaniLeigh's "My Terms" featuring PARTYNEXTDOOR and "Last Night" off her recently released album, Movie; Sevyn Streeters sultry, tropical banger "Kissez" featuring Davido and the heavy-hitting, chart-topping single "Gifted" by Cordae featuring Roddy Ricch.
 
Bongo has aided in creating an array of the most regarded music we have received in this generation — creating a track record for seamlessly fusing genres, styles and proficiencies that have remained unparalleled since his emergence on the music scene. What the key to his refined talent, an ear for music excellence and budding legacy, you may ask? His dynamic upbringing; being of Nigerian descent and more. Bongo has seen a multitude of successes creating profuse amounts of hits, working alongside industry leaders and creating sonic-excellence only he is capable of producing. Consistently creating bangers across all genres of music that separates him from your standard creatives, this is only the start to his budding legacy as he continues to forge a blueprint for future producers following his path.
Uforo "Bongo" Ebong, better known as Bongo ByTheWay, is a Grammy-winning platinum record producer originally from Nigeria and raised in both Florida and Rhode Island (currently residing in Los Angeles, CA). Bongo became known for his unparalleled talent with production; he also plays bass, piano and a multitude of other percussion instruments. As a child who grew up in the church, Bongo took to music as an outlet early on and received teaching from his musically inclined older brother beginning at age eight. By the time he was eleven Bongo began creating his own beats and got his first major placement on a Musiq Soulchild track when he was only 18. After earning a Bachelor of Science degree from the University of North Florida, Bongo relocated to the entertainment epicenter of Los Angeles to focus on his music full-time. But despite his early expression of talent and validation from big names in the industry, Bongo ByTheWay never stopped striving to get better and better and merge his instrumentalist background with the wave of new technology available. As the rising super-producer has explained, "I grew up appreciating organic sounds. I played in the church, I grew up listening to Erykah Badu and The Roots, people that really have that feel of the instrumentation. But at the same time, I do appreciate the nuances of technology because they allow you to express yourself in a new way and have different soundscapes that are cutting edge."
As his career was taking off majorly beginning in 2013, Bongo became widely known for his production on Big Sean's number one album Dark Sky Paradise and Documentary 2 by The Game. Bongo's unique high-caliber production turned heads throughout the industry and has since led him to producing tracks for Roddy Ricch, Nipsey Hussle, Jeremih, Eric Bellinger, Kanye West, Beyoncé, Kendrick Lamar, Ty Dolla $ign, Snoop Dogg and Future among many others. He's a 4-time Grammy nominated producer for songs with YBN Cordae and BJ the Chicago Kid and his landmark Grammy Award winning production on "Free From It All" by Hip Hop – Gospel crossover star Lecrae and his extensive discography has cemented him as one of THE most sought-after producers for popular urban music. In the summer of 2020, even amidst a global pandemic, Bongo ByTheWay secured two Billboard number ones for his chart-topping production on Teyana Taylor's The Album and Pop Smoke's Shoot for the Stars, Aim for the Moon. A high-achieving person by nature, there's no doubt that BongoByTheWay won't stop his grind, no matter how many accolades he earns. As this super-producer says himself, "If you're not truly passionate about it, you're not going to go the extra mile." 
Keep up with Bongo ByTheWay
WEBSITE: https://www.bongobytheway.com
IG: @BongoByTheWay
© 2020, Seth Barmash. All rights reserved.