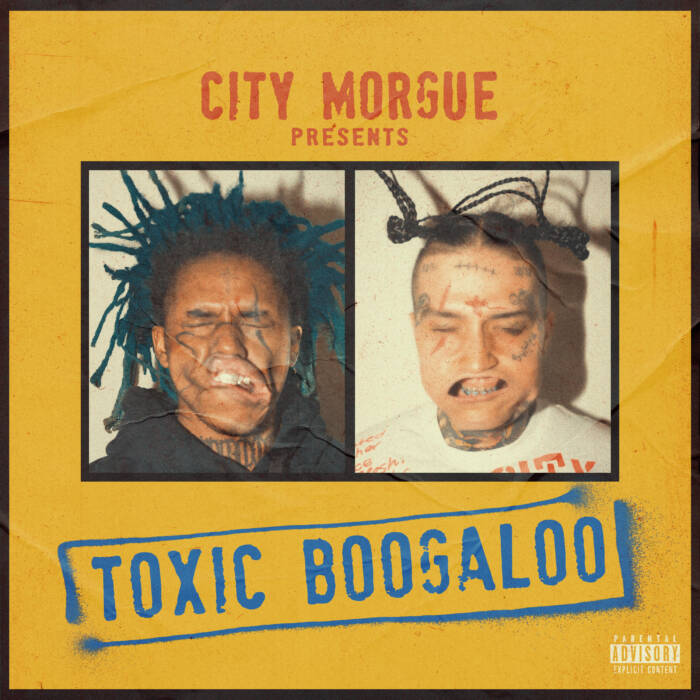 Today, City Morgue releases their new mixtape TOXIC BOOGALOO !
New York's most dangerous duo released the first track off of their mixtape "HURTWORLD '99" earlier this month. It already has over 1 million total streams. The 10-track project opens with a bang on "THE ELECTRIC EXPERIENCE." As a detuned guitar groans, ZillaKami and SosMula dismember the beat between sirens and gun clicks. Including the menacing "YAKUZA," TOXIC BOOGALOO finds City Morgue firing on all cylinders …New York's most notorious duo flex their storytelling like never before and hint at a deeper, darker, and deadlier narrative.
With the new mixtape, City Morgue continues the rage but also for the great cause of social justice. In honor of recent events, they said, "Dedicated to George Floyd. Thank you for sparking the youth's electric, the martyr who died for a cause lives forever. Us as wardogs are living through the most historic times of our lives and we'll gladly tell our kids this story if we don't die for it now. Join the BOOG. LIVE FREE AND DIE ELECTRIC. THE FIGHT CONTINUES."
The last time we heard from City Morgue, they crushed two Rock Albums Charts. Their second full-length offering, CITY MORGUE VOL. 2: AS GOOD AS DEAD, captured #1 on the Billboard Top Rock Albums Chart and #1 on the Apple Music Rock Albums Chart. The project and its recently released Deluxe Edition featured the legendary Mike Dean as executive producer. As always, they infiltrated rock and rap generating upwards of 100 million streams and 100 million views.
© 2020, Seth "Digital Crates" Barmash. All rights reserved.