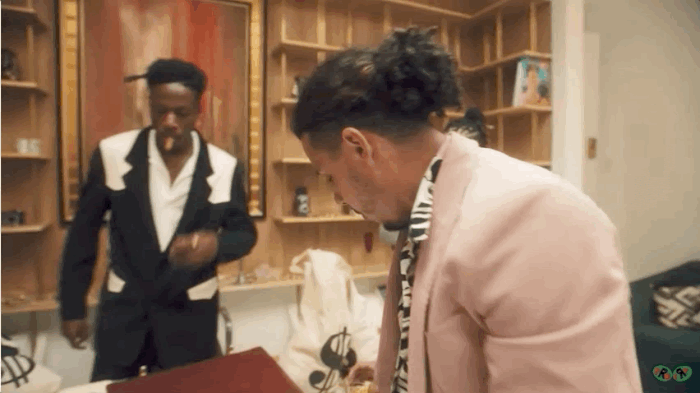 Known for his time with NY hip-hop collective, Pro Era, Brooklyn mainstay Nyck Caution is ready to set himself apart from the pack. Tomorrow, he's dropping a new single titled "How You Live It" featuring the Badmon himself, Joey Bada$$. The track features UK beatsmith, Dreamlife, on the ones and twos, providing a soul-sampling canvas for the two Brooklyn MC's to proudly talk their shit. Nyck takes the time to tout his womanizing prowess, expose social media fakery, and expound upon his long-term goals: "This is Killa Season, ho, I feel like Cam'Ron/I'm just tryna build a block that I can stand on." Meanwhile, Joey thunders onto the track at the halfway mark to count his cash and talk up his friend: "Nina on my waist, if you talkin' out yo face/Better proceed with Caution 'cause you n*****s ain't safe." This is the first single from Nyck's upcoming full-length, set to drop early in 2021.
Accompanying the new single is a video directed by Fakedell. In the visual, Nyck plays the role of a sleazy, real estate agent, showing off a mansion to a couple of social influencers, yet ultimately selling the home for $5M in cold hard cash. After successfully securing the bag, he calls up the boss man, played by Joey Bada$$, and then the squad proceeds to celebrate their earnings at the "Famiglia Real Estate" HQ. The video also features some familiar faces, including cameos from Beast Coast affiliate, Zombie Juice, beatsmith and fellow Pro, Powers Pleasant, and Carol City phenom, Denzel Curry.
Born and raised in Brooklyn, Nyck Caution rose to prominence as a member of the Pro Era collective. Impressing with his lyricism and malleable flows, the 26-year-old rapper became a fixture of the NYC rap scene in the 2010s, appearing on projects by Joey Bada$$ (including the popular 1999), as well as Beast Coast's Escape From New York and A$AP Mob's Cozy Tapes Vol. 2. He connected with Pro Era producer/rapper Kirk Knight for the collaborative album Nyck @ Knight, generating tens of millions of streams on Spotify alone. Most recently, Nyck showed a new side of himself with the Open Flame EP, released in July, which earned coverage in Complex, NME, HotNewHipHop, and more. Nyck is currently preparing for his next solo album, the proper follow-up to his 2016 debut Disguise The Limit.
© 2020, Seth Barmash. All rights reserved.