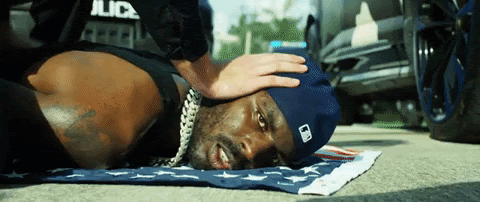 Criticism is essential to democracy, and IMO, to criticize America's injustices and shortcomings in an effort to make it better is the most democratic thing you can do — something Young Dolph has and continues to do throughout his 12+ year career in the rap game. In "The Land," video, his third self-directed video in a row out via Paper Route Pictures (making him the triple threat of rapper, CEO, and director), Dolph relays his experience as a Black man in America. The video opens with an unnecessarily aggressive traffic stop, with police shoving Dolph to the ground, his head laying symbolically on the American flag. He continues making a statement by spray painting "RIP Breonna Taylor," "No Justice No Peace," and "BLM," on a police car. Dolph has a moment of catharsis, taking a baseball bat to the cars' windows while rapping, "they say this the land of the free, it seem like the land of bulls***t to me." 
"The Land" is the searing centerpiece of Rich Slave, Dolph's deeply personal and highly successful new album. Emphasizing his Memphis roots with Dirty South instrumentals, the album explores Dolph's rags to riches story, while taking time to reflect on the glass ceiling on the upward mobility of Black people; no amount of money allows you to escape racism as a Black person in this country. Featuring singles like the West Coast tribute "Death Row," the conversational "Blue Diamonds" (7.7 million views), and the Megan Thee Stallion-featuring riders' anthem "RNB," Rich Slave peaked at #4 on the Billboard 200 and hit #1 on Billboard's Independent Albums chart, selling over 65k units and generating over 44 million on-demand streams in its first week. Home to video singles "Cray Cray" (3.9 million views),  "What's Da Bizness" (1.8 million views) and "Hold Up Hold Up Hold Up" (5 million views) Rich Slave is available everywhere!
Check it out here: https://youtu.be/r6l946DZi80
© 2020, Seth Barmash. All rights reserved.