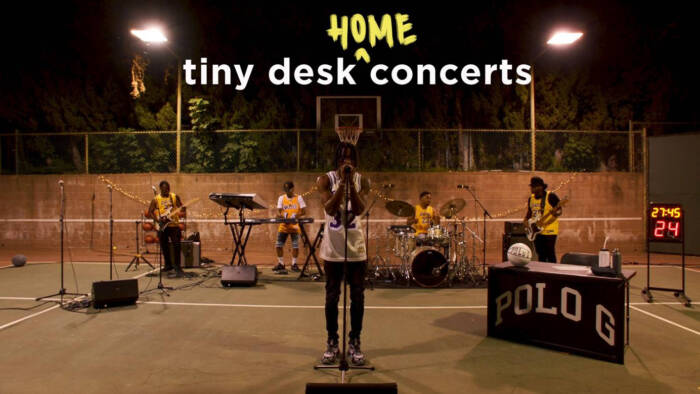 The backdrop for Polo G's NPR Tiny Desk (home) concert is a nod to his deep love for the game of basketball. He and his band perform in Los Angeles Lakers jerseys on an outside court in California, with Polo G repping one of the greatest Lakers, Magic Johnson.
SET LIST
"Flex"
"Epidemic"
"Wishing For A Hero"
MUSICIANS
Polo G: vocals
Lamar Edwards: keys
Vasjon Hill: drums
Austin Cain: bass
Chris McCorkle: guitar
Shaunise Harris: vocals
Candice Boyd: vocals
Nava Morris: vocals
CREDITS
Director: Bella Mazzola & Sami Wideberg
Audio: Irvin Picott and Anthony Jerome Culpepper Jr.
Video: Mike Lev
Producer: Bobby Carter
Video Producer: Morgan Noelle Smith
Audio Mastering: Josh Rogosin
Executive Producer: Lauren Onkey
Senior VP, Programming: Anya Grundmann
Polo G has been unstoppable this year and is one of music's top rising talents of 2020. Aptly named Polo G after his favorite lifestyle brand, Polo by Ralph Lauren, and his slain friend Gucci, Polo G is determined to leave his mark. The 21 year old Chicago rappers critically acclaimed sophomore album, The GOAT, debuted at #2 on Billboard's Top 200 chart and has already been certified Gold, merely three months after its release. Additionally, the album has since accrued one Billion streams to date and shows no signs of slowing down. His 2019 critically acclaimed Platinum debut album Die A Legend, hit #1 on the Billboard Rap Chart and includes the massive 5X platinum Billboard hit "Pop Out" ft. Lil Tjay. Polo G's artistry stems from necessity. He utilizes music as an outlet to constructively verbalize the perils he and others faced in impoverished communities. Now, Polo G launched his own label, ODA, in partnership with Columbia Records. "The name of my label is ODA, Only Dreamers Achieve Records, because in our communities we are told what we CAN'T be. I want to send the message that we control our futures and encourage artists to dream big," stated Polo. Polo G celebrated his new album All Star Weekend with a celebration in his hometown of Chicago, concluding with a special benefit concert called "Polo G & Friends," which was dedicated to kids fighting depression and honored the late Juice WRLD. He recently performed "Wishing For A Hero" as part of special Lollapalooza x Chicago Bulls collaboration and once again at the 13th annual Roots Picnic in support of Michelle Obama's When We All Vote initiative. His authentic message, coupled with the buzz he's accumulated in a short time, positions him as the one to watch for 2020.
© 2020, Seth "Digital Crates" Barmash. All rights reserved.