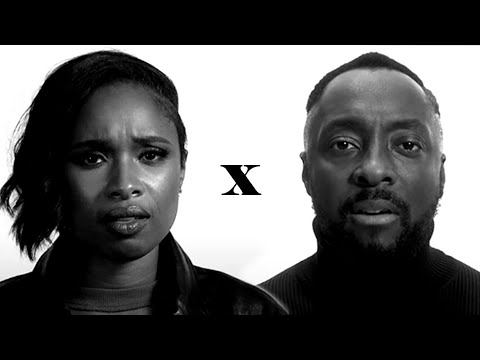 Black Eyed Peas and Jennifer HudsonWith appearances by Becky G and American activists – George Floyd family, Breonna Taylor's mother, and more create a new video, "The LOVE"
"The LOVE" video was created to help keep hot issues in the nationalconversation, including racial justice, civil rights, police brutality, immigration reform, public safety, science, small business support, and the environment.  By getting involved, everyday citizens remind the public that everyone can be a driving force for positive change. The Call To Action is: Get out and vote, like your life depends on it—because it does. 
Six-time GRAMMY® award-winning Black Eyed Peas and Grammy® and Academy® award-winning artist Jennifer Hudson create "The LOVE," an adaptation of "Where Is The Love," the Black Eyed Peas' anthemic global hit song played frequently in troubling times.  Stylistic elements of will.i.am's iconic 2008 "Yes We Can" music video, later harnessed by the Obama-Biden campaign are also incorporated, this cycle using portions of Joe Biden's DNC acceptance speech delivered on August 20th, 2020 in the opening and closing verses of "The LOVE."
"The LOVE" incorporates lyrics and imagery that address the ongoing wave of many systemic issues including deadly police brutality, civil rights violations, public safety failures, environmental struggles and stalled immigration reform efforts that have left a generation of DACA youth living in limbo. 
Chronicling the failures that continue to play out across the U.S. unchecked, "The LOVE" features an array of activists and surviving family members fighting back the inequalities that have plagued the nation for far too long. Black Eyed Peas and Jennifer Hudson, with appearances by Becky G and activists (in order of appearance):
Jennifer Hudson
Apl de Apwill.i.am
Reverend William Barber/ Poor Peoples CampaignBreonna Taylor Family/ Breonna Taylor FoundationAlice Tsui – teacher – New Bridges Elementary, Brooklyn, NYValerie Castile/ Philando Castile Foundation
George Floyd Family/ The George Floyd Foundation
Bria Smith/ 50 Miles More
Ben Crump/ Civil Rights Attorney
Dr Mona Hanna-Attisha/ Pediatrician and Author, Flint, MI water crisis crusader
Deshea Agee/ Historic King Drive BID- Community Change AgentJamie Margolin/ This Is Zero Hour Co-Founder
Daphne Frias/ Box the Ballot Co-Founder, Disability Justice Activist
Manju Bangalore/ Operation PeriodNew Bridges Elementary School students, Brooklyn, NYJaclyn Corin/ March for Our Lives Co-Founder
Becky G
Alvin Cole Family/ Alvin Cole FoundationCongresswoman Veronica Escobar/El Paso, Texas (TX-16)Arthur "Silky Slim" Reed/ Alton Sterling Foundation/ StopTheKillingIncValarie Kaur/ Revolutionary Love ProjectMayra/ Public Health Worker, College TrackCameron Kasky/ March for Our Lives Co-FounderJ.D. Scholten/ Candidate IA-4/Rural AdvocateAlex King/ Chicago Peace Warriors
TabooTokata Iron Eyes/#noDAPL – Standing RockAlica Garza/ Co-founder, Black Lives MatterJacob Blake Family/ Jacob Blake Jr Foundation
QUOTES:will.i.am, co-founder of Black Eyed Peas said: "We the people must keep the pressure on public officials, so they hear us loud and clear: murdering Black people, civil rights injustices, DACA kids living in limbo and babies being ripped from the arms of their mothers, disregard for public safety, ignoring science, failing to support small businesses and farms, and unchecked damage to our planet cannot continue. The citizen activists joining us in this video give me hope that positive change is not only possible, it will happen, and collectively we can turn around the breakdown of civil society. This is a Call to Action for every American of voting age to show up safely and vote on, or before November 3rd like your life depends on it."
Jennifer Hudson commented: "We're living in a time where each one of us must raise our voice. That's why it is so important to amplify this call to action. We are voting for so much more than the future leaders of our country, we are voting for the future of our citizens and the justice and rights that are too often taken for granted. This is about the future we'd like to see. It's my hope that every single person who can vote is inspired to make their voice heard."
"The LOVE" is an independent project created by the Black Eyed Peas and Jennifer Hudson, with Becky G and American activists. No political campaigns or PACs were involved in the making of this video. Voters seeking information about polling places, vote by mail and other information can visit sites such as www.RockThe Vote.org or www.usa.gov/voting.
Black Eyed Peas' "Where Is The Love" was originally released on their "Elephunk" album in 2003. will.i.am's "Yes We Can" spoken word video debuted on February 2, 2008. It was created independently of the Obama campaign – no funding was received from any campaign or PAC.
© 2020, Seth Barmash. All rights reserved.