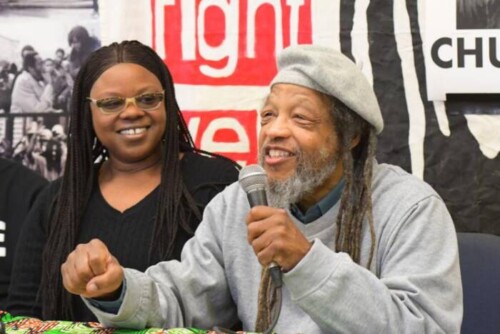 Delbert Africa, one of the MOVE 9, died on Monday, June 15, 2020.
Africa had been released from prison just six months prior, after he served 42 years behind bars. He had been sentenced to prison on third-degree murder charges stemming from the August 1978 standoff between MOVE and Philadelphia police that left Officer James Ramp dead and others injured.
When Africa surrendered to police with his arms outstretched and no weapons in his hands, police brutally beat him. He suffered a broken jaw and broken ribs.
"We want people to know what happened to Delbert was just another example of George Floyd. Delbert was deliberately, methodically, calculatedly murdered by prison officials," said Janine Africa, Delbert's sister, at a press conference on Tuesday.
"In part of a plan from the government to kill as many MOVE men as they could get their hands on, the prison officials did a lot of horrific, wrong things to Delbert and we know that he suffered because of that. When he came out here to these doctors and hospitals on the streets, they even said the prison did a lot of wrong things to Delbert and they couldn't understand why. But MOVE people know why. We know why and the people know why."
Janine Africa continued: "They wanted to kill Delbert. They didn't want Delbert to come out here and be strong. We're saying that what happened to Delbert is no different than what is being done by police to a host of Black men and women all across the country."
Delbert Africa's daughter, Yvonne Orr-El, talked about the lack of treatment her father received in prison.
"In 2018, when my father first exhibited symptoms that there might be something wrong, he waited six months before they let him go to the infirmary," Orr-El said.
When Delbert Africa went to a hospital in 2019, the family had to wait three months for the results of lab tests, Orr-El said.
"From Nov. 17 all the way until the time he got out, I begged the prisons, doctors and hospital officials to start him on his treatment plan," she said.
"After he was released, …I went to see the doctors again. They were in shock that he never once received a consultation on what to do with his health. I will say that we have had other family members that had the same type of disease that he had and all of them are still here with us."
Orr-El was 10 when her father went to prison. She went to Chicago to live with her mother, who was an officer of the Illinois Black Panthers and a minister of culture.
She said Tuesday she will remember the legacy her father left as a member of MOVE.
"This warrior king is a supreme being," Orr-El said. "This warrior king is someone who taught the world how to learn how to love and know how to have pride within himself to understand what the system really does to us."
© 2020, Wilde Tuna. All rights reserved.