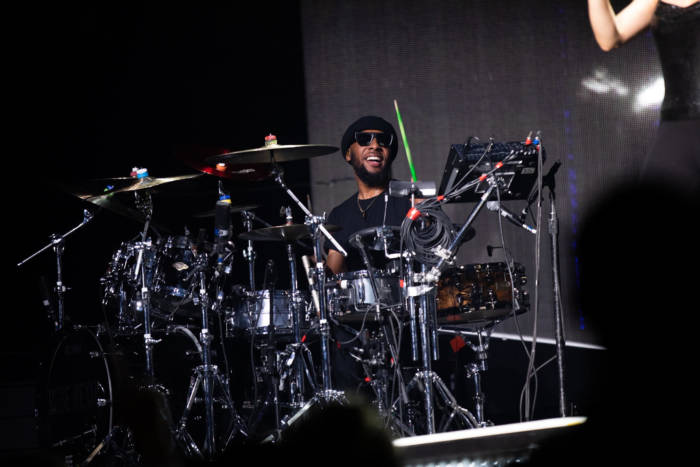 Right before the holidays, he wrapped up the 23-city Jonas Brothers "Happiness Begins" North-American tour as the drummer for Grammy-nominated pop-star Bebe Rexha. At only 26 he's one of the most prominent drummers of our generation.
Many will call TreWay your favorite artists' favorite genre-defying drummer. He's completed numerous tours with Meek Mill, Future, Jasmine Sullivan, Marsha Ambrosius, Floetry, Bebe Rexha and more. In 2019 he has graced the stages of Saturday Night Live, The Ellen Show, Late Show with Seth Myers, MTV's Video Music Awards, America's Got Talent, Conan, The Talk, and Late Show with Stephen Colbert just to name a few.
Growing up in Philadelphia, TreWay began playing drums at three years old. Molded by the live music community through his upbringing in the church and attending the Girard Academic Music Program, TreWay went on to become the new face of live music for the next generation. His journey did not come without his fair share of struggles though. After graduating high school and playing drums around the world with GRAMMY award-winning gospel artist Tye Tribbet, he was nearly killed in from a stray bullet in his North Philadelphia neighborhood. He bounced back with unshakable faith and launched his brand OnDa1 which promotes accomplishing your goals and building community from music. It's become a branding blueprint for other musicians following his steps.
Bernard "TreWay" Lambert is an exemplary musician who many look up to because of his incredible career. He's genuinely gained 110K Instagram followers who are engaged and trust his opinion on anything concerning drums, equipment, touring and live music. When we discuss music and entertainment, I think it's important to remember the root of it all – the instruments, and Treway is the expert.
© 2020, Seth Barmash. All rights reserved.