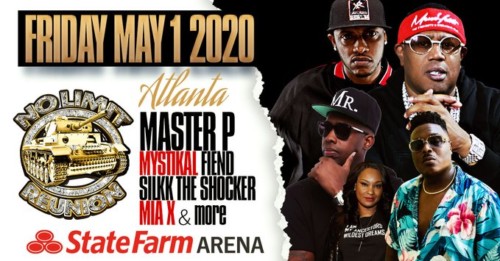 The Colonel of The Tank has reassembled his soldiers for a No Limit Soldier Reunion Tour and Celebration in Atlanta at the award-winning State Farm Arena on Friday, May 1, 2020.
The Camouflaged Army has sold over 100 million records to date. It is a historical moment for fans and the No Limit Troops, Master P, Silkk the Shocker, Mia X, Fiend, Mr. Serv-On, + special guest. They reunite after 20 years of building a No Limit legacy. Master P says, "It's not about us, it's about the fans and we salute them for supporting the No Limit movement."
The World's #1 Independent Rap Label changed the music industry forever, having one of the best distribution deals for independent music companies. Master P created a fan-frenzy in the late 90's and is still relevant today. He's not only a businessman entrepreneur, he loves to give back and help inner-city youth through educational programs. This will be a show that you don't want to miss!!!!
More information about the No Limit Reunion can be found here nolimitreuniontour.com
Tickets can be purchased at ticketmaster.com starting 10 a.m. on Friday, Jan. 17.
© 2020, Eldorado2452. All rights reserved.