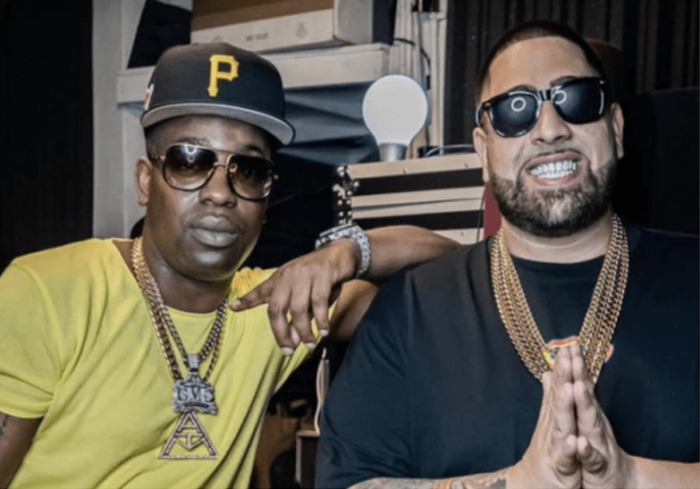 Keeping up with various rumors and moving forward to print based on information on hand is challenging as every platform wants to break a story first. HipHopOverload apologetically retracted there previous article "Sauce Walka Manager Big Trill Exposed for Million Dollar Plus Instagram Scam using The Game, DMX, Jadakiss, Fat Joe and others IG Accounts Targeting Unsigned Rappers," and presented a new report based on further research and information. They have verified that not only is this not a scam, it is an amazing unique opportunity for up and coming artists and those individuals/companies looking for promotion with major artists in the Hip Hop Industry.
It seems the IG account @rap.ponzischeme is hating on free enterprise and what Big Trill is doing. The @rap.ponzischeme IG account sent 1,000's of Emails to HipHopOverload asking that they run the original article they ran which was false. It seems RapPonzi had a personal agenda against Big Trill and his promo company. After doing real research they have found 1,000's of success stories of artists who got major publicity and some even got signed thanks to Big Trill and his company! The reason why people have similar screenshots is because even Game said it in a video, I don't have time to explain to 10,000 people what's going on. @rap.ponzischeme @minxradio @grizzyhendrix are all platforms who are chasing clout to up there numbers. When they post about the promotion their next couple stories or post is to subscribe or to buy merchandise. The mixtapes were hacked and right away re-uploaded on SoundCloud. The video that was sent, has proof of happy people. What rap ponzi does is STALK stories of these artists and then they hit up the artist and play with there intelligence to make it seem like there being scammed but there NOT!
We live in a digital world and a pandemic digital world no less, where virtual connections are made more than ever through social media. Given the circumstances, we are forced to stay at home and use any device that connects to the internet. Aspiring artists are looking for a means to get their music heard with no concerts or social gatherings happening for the foreseeable future. The power of promotion, to stand above to set yourself apart and strategically market yourself is now greater than ever. It's all about promotion, marketing, who you know, and most importantly branding. All of these established major hip hop artists have put in the blood, sweat, tears and invested lots of money to build their brand. Nike is a brand not a sneaker and they've paid for promotion to build their brand.
Artists are using their social media platform due to their engagements and following based on building their brand and are now trying to help promote others in a positive way so others can build their brand. Promotion, marketing in any industry is not free, you have pay, it's business. You have to believe and invest in yourself because if you don't, no one will do it for you. Having an opportunity to receive services and advice from major hip hop legends or the hottest names today and having them do intros, video drops, or IG promo of you on their page or chopping it up with your favorite artist on IG Live, can all be had for a fraction of the cost relative to social media promotion. This unique opportunity never existed 5-10 years ago. A mixtape is something that's been around forever, and just one of the many services and opportunities that the artists provide. All services are always provided. If for some reason someone hasn't received a service and they can provide proof, a full refund will be issued.
HipHopOverload confirmed that Uncle Murda is the face and partner of @dablock365 because he's an artist, and he understands the power of promotion from being from NYC and is tied in with the hip hop community. Big Trill is an Uncle Murda disciple who helps Uncle Murda recruit artists to turn their brand into a social media promotion platform. Uncle Murda and his team put together templates for these major artists, presenting unique opportunities for artists to manage their social media platforms to help promote unsigned artists like never before. Some artists have a manager or team member respond in the direct messages (dms) and other artists respond directly because they enjoy working and helping out unsigned artists directly because there's a bond since they've been in their shoes. These major artists however, have never had opportunities like this when they come up, but are grateful to be in the position to allow someone an opportunity to further their aspiring career.
Major Hip Hop artists using their personal social media platform to help others presents a unique and amazing opportunity but also opens yourself up to criticism for those detractors who can direct their hate towards a specific face or individual. Articles and posts that talk about this level of promotion being a scam don't understand advertising and marketing and free enterprise. Any articles, posts written about scamming by fat joe, Jada kiss, big trill n others are talking without knowledge bc they're not doing their homework. People that haven't done business or promo with these major artists are trying to smear and slander names of known entities to make a name for themselves. Clout chasing is a thing and making outrageous claims and manipulating conversations to just get noticed is another way to promote yourself, however this form of promotion while smearing others is distasteful and wrong.
This is an amazing opportunity that you can choose to take or not and add to your resume. Rome wasn't built in a day, and no one is saying you'll be an overnight sensation, but by building your portfolio, getting exposure through marketing and promotion, it gives you a better chance than most to succeed in a digital world where videos go viral, people get noticed, and music is streamed on so many outlets. The time is now to promote yourself and build your brand.
Connect:
https://www.instagram.com/dablock365/
© 2020, Seth Barmash. All rights reserved.