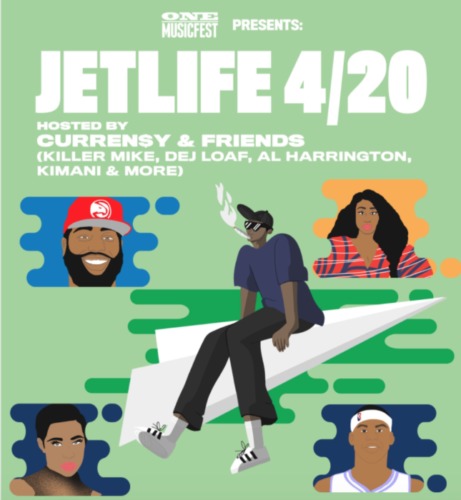 With the outside world, as we know it, currently being closed due to the coronavirus pandemic, ONE Musicfest has decided to livestream on 4/20! Presenting JETLIFE 4/20, the notable Atlanta based festival has tapped Curren$y and Friends for a music filled lineup via their YouTube Live channel. From Rick Ross, Snoop Dogg, Dej Loaf to Killer Mike, Jim Jones and more – tune in!
Check the line-up below!
2:00pm EST
Curren$y Welcome to JETLIFE 4/20
• Snoop Dogg joins Curren$y
2:40pm EST
Fireside Conversation
•Curren$y w/ Christine De La Rosa – (Cannabis Reform)
3:15pm EST
Fireside CBD Conversation
•Landon Dias (Pif Company), Sabrina Peterson (Pretty High Company) and Chris Cole (Georgia Growers)
3:45pm EST
•Curren$y and Killer Mike
4:20pm EST
Cannabis Natural Healing Lion Order Conversation
•Curren$y Nico and Rohan Marley
• Cannabis Toast
5:00pm EST
The Business of Cannabis
•Curren$y and Al Harrington (NBA/Viola)
5:30pm EST
•Dej Loaf
6:00pm EST
•Kimani
6:30pm EST
•Curren$y Performance
•Rick Ross
•Jim Jones
© 2020, MariaMyraine. All rights reserved.