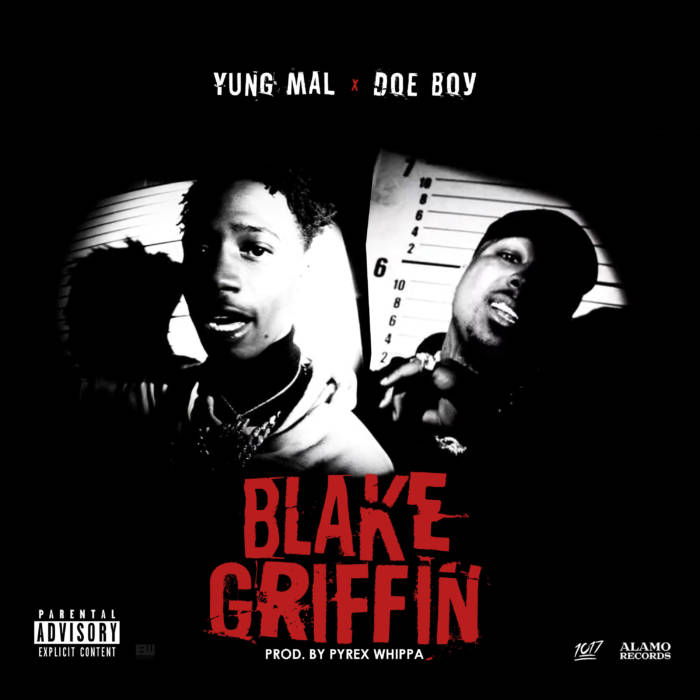 Bursting out of East Atlanta with one of his city's freshest flows, Yung Mal is on the fast track to stardom. Teaming up with producer Pyrex Whippa, another rising star in the trap scene, Yung Mal announces 6 Rings, his next project. To accompany the announcement of the tape, Mal also shares "Blake Griffin," the project's first video single.
The upcoming tape showcases Mal's effortlessly intricate rhymes–the 24-year-old rapper is an expert at finding unique rhythmic pockets within the beat, frequently messing with listener's expectations of meter and the bar line. A favorite of the new generation of Southern rappers (DaBaby, Offset Lil Gotit, Dreamville), the Baltimore-born Pyrex is a perfect fit for Mal's style, offering a diverse variety woozy trap instrumentals on which the young rapper can perfect his flexes. Featuring appearances from Lil Keed, Lil Gotit, Doe Boy, and more, 6 Rings arrives on March 5th via Alamo Records.
"Blake Griffin" is a bouncy, hypnotic, piano-laden trap single named after the superstar Detroit Pistons forward, "Blake Griffin" is an ode to Mal's flashy approach to flexin'–bands fly out of his bank account as fast as they're deposited. The single features an appearance from Doe Boy, the FBG-affiliated Cleveland native, who contrasts Mal's hushed boasts with a snarling, unhinged verse of his own. In the video, Mal and Doe Boy ball out in black-and-white (director Motion Picture Sh*t adds a touch of color), strutting their stuff in front of a basketball hoop and a police lineup wall.
6 Rings is Yung Mal's first full-length project since last summer's release of Iceburg, his debut solo mixtape.

6 Rings Tracklist:
1. Cocaine Freestyle

2. What's Poppin

3. Shut Up ft. Lil Gotit + Lil Keed

4. Exotic f/Lil Quill

5. Blake Griffin f/Doe Boy

6. 100 Missed Calls

7. Goin Up

8. Showed My Son 100K

9. La Cienega

10. Don't Even Matter

11. Free Molly

12. Str8 Out The Pyrex
© 2020, Seth Barmash. All rights reserved.