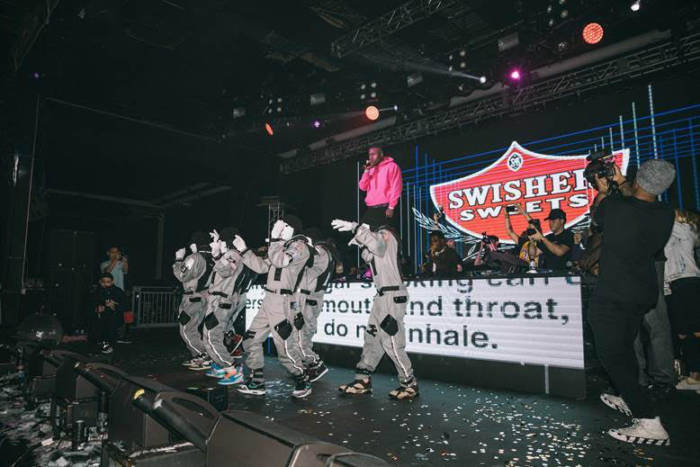 Swisher Sweet Spark Award Winner DaBaby takes the stage at Shaq's Fun House
Photo Credit: Charlie Peacher
On Thursday, January 30th Swisher Sweets hosted their annual Swisher Sweets Spark Award Party where DaBaby was honored with the Spark award. Swisher Sweets Artist Project Class of 2020 members Nitti Gritti, Melii and Yella Beezy were also in attendance. More information and photos available below.
Also, The Swisher Sweets Artist Project was excited to be a part of Shaq's Fun House, which featured performances from the Swisher Class of 2020: Nitti Gritti, Tyla Yaweh and Yella Beezy – with Swisher Sweets Spark Award winner DaBaby. Partygoers were also able to visit the Swisher store where the latest Swisher Sweets were displayed
Also in attendance: Justina Valentine, Kelechi, Kiddominant. Mariah Lynn, Swisher Vice President of Consumer, Marketing Dave Untiedt, Swisher Senior Vice President of Marketing John Haley and Swisher President John Miller.
Swisher launched the 4th annual Swisher Sweets Spark Awards as part of the Artist Project, which creates a platform for emerging artists to share their voice. The Artist Project creates unique opportunities for up-and-coming artists to share their work while giving fans access to new voices in music, arts and entertainment. Past recipients of the Spark Award include Cardi B and Gucci Mane.
ABOUT THE SWISHER SWEETS ARTIST PROJECT
The Swisher Sweets Artist Project was created to help artists pursue their creative passion by providing resources to help promote and support their careers. Over the past 60 years, Swisher Sweets has become unintentionally ingrained into music culture. Each artist who has mentioned Swisher Sweets in their song lyrics – more than 2,500 songs and counting – has helped make the brand what it is today. Now in its sixth year, the Artist Project has worked with more than 100 artists across several music genres. This year's Swisher Sweets Artist Project Class of 2020 includes some the hottest new acts in music. Artist Project grants have been awarded; performance opportunities have been provided to artists in cities across the country; and thousands of hours of content have been curated – all with a spotlight on the creative community.
© 2020, Seth Barmash. All rights reserved.