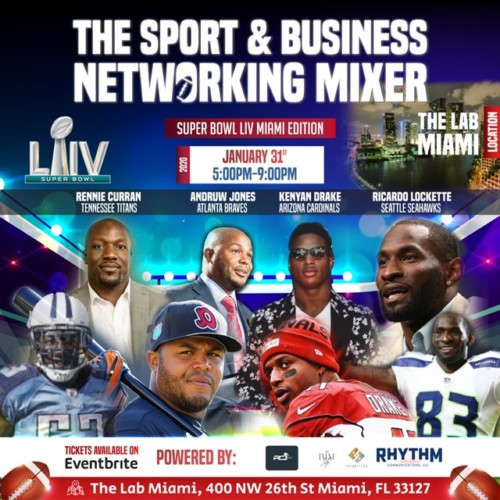 Super Bowl 54 week is upon us in Miami, FL and before the game kick off on Sunday, former NFL player Rennie Curran has a pretty cool event set up for you to check out.
On Friday, Jan. 31, from 5 – 9 pm, Rennie Curran is set to host the inaugural "Super Bowl Sports & Business Mixer". The naugural "Super Bowl Sports & Business Mixer" will take place at The Lab Miami (400 NW 26th St. Miami, FL 33127).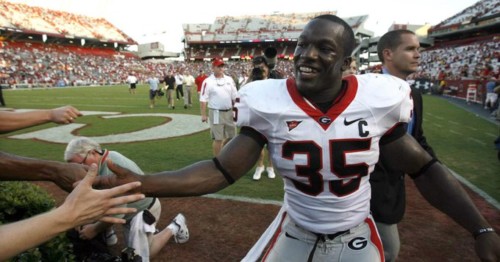 Rennie Curran has a mission with this event. Established by former NFL professional and entrepreneur Rennie Curran, in partnership with Event Life, the event was created to bridge the gap between sports and business through connection, collaboration and empowerment. The quarterly event has become a "must attend" in Atlanta for the movers and shakers in the sports marketing industry.
Several big name athletes are scheduled to be in attendance. Kenyan Drake (current Cardinals RB and 2X National Champion at Alabama), Andrew Jones (Atlanta Braves OF, 5X All-Star, 10X Gold Glove Awards), Ricardo Lockette (former Seahawks WR, Super Bowl Champion and entrepreneur) and more will be in the building.
Checkout the schedule of events for the inaugural "Super Bowl Sports & Business Mixer" below. To purchase tickets to the inaugural "Super Bowl Sports & Business Mixer" click the Eventbrite link here. Ticket Cost: VIP for $100 and General Admission for $50 and the dress code is business causal.
·       5pm – 6pm: VIP only. Exclusive networking opportunities in a more intimate environment with additional professional services onsite: resume review, business coach, and headshot
·       6pm – 9pm: General admission.
·       7pm: Panel discussion. Athletes and business leaders will lead a discussion about developing your competitive edge in business.
Follow @eldorado2452 on Twitter and Instagram for all your NFL, Super Bowl 54 and sports news.
© 2020, Eldorado2452. All rights reserved.