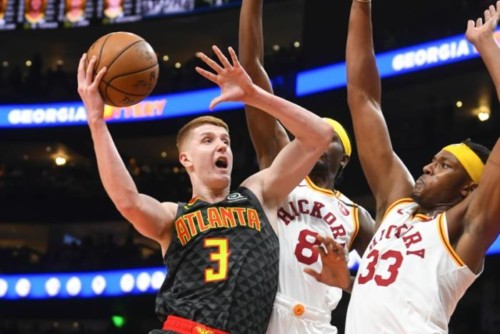 In their first home of 2020, the Atlanta Hawks came out the gates firing against the Indiana Pacers.
Saturday night's game was the second of a back to back for the Atlanta Hawks who suffered a tough (109-106) in Boston on Friday. The Hawks came into the game with a few key injuries. John Collins, Jabari Parker and Cam Reddish were all out which out gave others on the roster a chance to shine.
"I Put On For My City: @atlhawks star @thetraeyoung Leads East Guards in First Fan Returns of NBA All-Star Voting. Last night, I asked Trae if his early all star results prove them him as a player and the Hawks as an organization are finally getting the respect they deserve #NBA pic.twitter.com/pjtEDurvT2

— Terrell Thomas (@Eldorado2452) January 5, 2020
The Hawks offense despite the injuries seemed extremely focused early on. The Hawks shot 68% from the field in the first quarter and 67% from three. Saturday night's first quarter performance from the Hawks was their best first quarter performance of the season.
Trae Young dropped 18 points in the first quarter and Vince Carter made NBA history becoming the first player to play in four decades (90s,00s,10s,20s).
Get this man to the NBA all-star game! 41 points & 8 assist tonight for @TheTraeYoung as the @ATLHawks defeat the Pacers (116-111) #TrueToAtlanta pic.twitter.com/788r9vWmSV

— Terrell Thomas (@Eldorado2452) January 5, 2020
The second quarter was a bit different from both teams. Trae Young continued to score however the Pacers found their scoring rhythm as well. A lead that was once as big as 21 was cut to just four points with another a minute left in the half. The Hawks took a (64-60) lead into the half. Trae Young dropped a career half for any half scoring 30 points.
The Pacers continued to make it a game in the second half but the Hawks fought and found a way to keep if close headed to the fourth quarter. The Hawks held the Pacers to just 16 total points in the fourth quarter and that was the difference in the game. The Hawks picked up the defensive spots they need to defeat the Pacers (116-111).
For the Hawks, Trae Young was the leading scorer. Trae finished the night with 41 points and 8 assist. Shooting guard Kevin Huerter scored a career high 26 points.
The Atlanta Hawks are right back in action on Monday January 6th as they host the Denver Nuggets. Tip-off is at 7:30pm. Follow @eldorado2452 on Twitter and Instagram for all your Atlanta Hawks, NBA and sports news.
© 2020, Eldorado2452. All rights reserved.