Rachel Nichols, Tracy McGrady and Kendrick Perkins discuss LeBron James' role in fighting social injustice, and how the Los Angles Lakers star differs from most other players. They also talk about Kyrie Irving and Dwight Howard speaking out on possibly not finishing the 2019-20 NBA season.
WHAT CAN THE NBA DO TO NOT CONFLICT WITH THE ON GOING PROTEST DUE TO RACIST AND UNJUST ACTS COMMITTED BY LAW ENFORCEMENT?
As Kyrie stated, we need a radical change in order for the black lives matter movement to hold its strength. Money is not the answer and we know financial stabilty does not exempt you from police brutality and discrimination as a Black American citIzen. NBA players on National Tv "wearing special shirts and tweeting is not the answer" as espn reporter Rachel Nichols explains, maybe forcing the hand of NBA is. With the deadline coming this June 24th, the NBA awaits players decisions on wheather to play and stay at state of the art facilities with mandated rules on visitation and extra ciricular activity or not. However, health is not the issue, where is the bubble facility for black lives? Forcing not only African Americans to face the reality of racism and injustice that they themselves do not face, will not occur and will be swept under the rug if the NBA returns.
We have to keep focused and the pressure on while the world joins together in an effort to assure black voices are heard and black lives matter. Asking Lebron to be a "Muhammad Ali" or a "Colin Kaepernick", risking his income and risking his NBA legacy isn't too much to ask when in 2018 he had a net worth of 448 million right? But what about the players who make only 20 percent of what Lebron makes? Is it fair to ask players to do this when they are already living pay check to pay check?
These athletes would need the players union to organize new sanctions, rules of conduct and possible allocation of funds. Where do the billionaire owners stand with this? Like it or not untill your team owners are at the city halls and congressional meetings sitting out is the only way to advance the message Black lives Matter is trying to instill.
I do not believe enough NBA players who are accumulating thier familie's 1st generational wealth are willing to sacrafice their season and pay. I also do not believe unless forced, the NBA who is already deemed ahead of the all leagues when it comes to the installement of black coaches owners etc, will be doing any extra to commit itself to black lives and I dont blame them. With companies making statments left and right in ads, donations made out of guilt or true morals we may never know. What more could the NBA do other than speak to president Trump directly? I do full heartidly believe if Lebron James was to commit an act of solidarity with Kyrie Irving by sitting out, our call for police reform will be expedited. But the fact remains the NBA will even if unintentional, distract people across the globe from our current issues.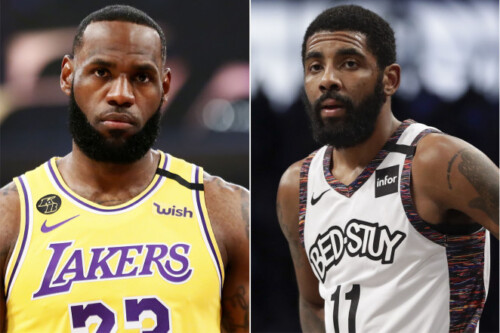 Direct loss is what is needed for radical change
"THE PLAN" When you show the world money has no value in comparrison to black lives, local city funds, state funds, big name sponsors, corporations, and big media outlets are then at stake of major loss. Major economical lapses will occur and who makes money off of each dollar exchanged? The American Government the upholders of "Law & Order". The same "Law & Order" that is killing us.
OUR MONEY COULD HELP, YES STEPHEN A. SMITH IT COULD….. But we are not fighting a finacial battle with our oppressors. We are fighting a racial and social injustice battle that our spokesmen for the community rely on the support our fight for equality. But as Pat Beverly tweeted King James holds the decision for most of the league's players and fans.
Kyrie, don't threaten the league with a sit out. If you are willing to risk your income and career for the cause then prove it and be the first to lead the movement. By making statements that players should sit out this season with no action Kyrie makes his point questionable due to his current health and uncertainty on his futrure in the NBA. Being a 7th seed team with no K.D. and an already healthy bank account, Kyrie show us don't tell us. With covid-19 already causing an estimatted 55 billion dollar loss in sports stadium revenue the second pandemic threatens its establishment with an unfinished season. That pandemic being the on going systmatic oppression and mistreatment of brown and black people. Do not be distracted continue to fight and voice the needs and wants of the people.
STOP POLICE BRUTALITY AND LIFE CAN CONTINUE AS SCHEDULED, BLACK LIVES ARE MORE IMPORTANT THAN BEING ENTERTAINED!
BILL RUSSEL "THIS IS IT? THIS IS HOW FAR WE MADE IT? WILL I EVER SEE REAL FRUITFUL CHANGE IN MY LIFETIME"
THE GREATEST WINNER IN SPORTS HISTORY IS HEART BROKEN AND HE HAS ALL THE RIGHT TO BE.
© 2020, Wilde Tuna. All rights reserved.