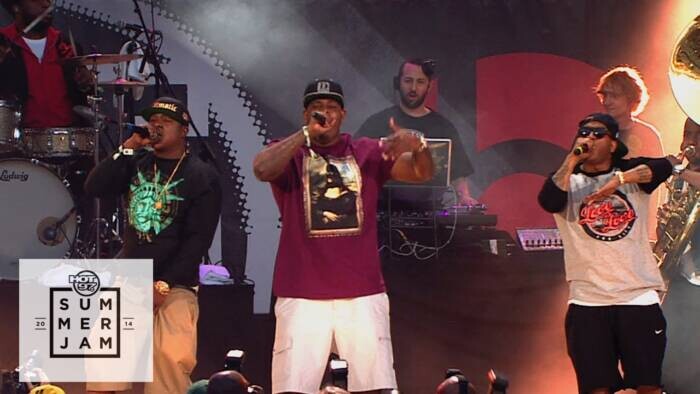 BY: KIM COCO
On August 22nd 2021, the Tristate's Biggest Hip Hop Festival returned to East Rutherford New Jersey's MET LIFE STADIUM for HOT 97's annual SUMMER JAM CONCERT. The live concert made its comeback for the first time in 2 years and drew out thousands of Hip Hop Fans despite a Northeastern Storm and Flashflood warning. Doors opened at 5pm and ticketholders filled the stadium to see performances by artists like: Young Devyn, Mooski, Morray, Yung Bleu, Coi Leray, Dreamdoll, Maliibu Miitch, Dusty Locane, , Rowdy Rebel & Bobby Shmurda, DJ Megan Ryte & Friends, Heavy Hitters Presents CJ And Friends ft. Farruko & El Alfa, , Moneybagg Yo, Swizz Beatz With A New York Tribute To DMX, Meek Mill, Migos, DaBaby, A Boogie and more!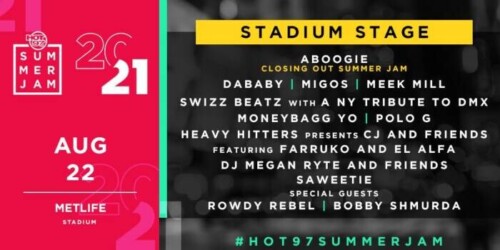 CJ brought the house down when GHOSTFACE KILLAH, RAEKWON and METHOD MAN of the WU TANG CLAN came on stage, paying homage to his hometown of Staten Island. FIVIO FOREIGN graced the stage alongside POP SMOKE's mother MS. JACKSON where the whole stadium stood in solitary to paid tribute to the late Brooklyn rapper that put drill music on the map.  Later in the evening MONEYBAGG YO, DA BABY, MIGOS and a very pregnant CARDI B made their way to the stage.
FRENCH MONTANA stepped on stage and was met with a roaring crowd of fans in the stadium as he completed his set, and surprised the audience by bringing out ROWDY REBEL and BOBBY SCHMURDA. As fans went wild for the duo, BOBBY performed his classic "HOT N*GGA", jumping into the crowd of  hip hop fans who patiently waited for the "KING OF New York" to make his return to the stage.
Behind a pair of long black curtains backstage, dozens of Hot 97 DJs, personalities, employees and affiliates gathered to greet each other and celebrate the return of the annual SUMMER JAM festival. Hot 97's biggest radio personalities and Deejay's such as: LAURA STYLEZ, EBRO, PETER ROSENBERG, DJ DREWSKI who celebrated a birthday that night, DJ WALLAH, DJ BOBBY TRENDS, DJ NICKY RIZZ, PRETTY LOU, DJ CAMILO, FUNK FLEX and of course HOT 97's DJ MEGAN RYTE. DJ ENUFF's HEAVYHITTER's DJs were in full attendance backstage, playing music and hosting on the mic to a crowd of loyal fans.
The group of DJ's were seen in good spirits as they chopped it up with each other and the A List acts as they waited their turn to take the stage, stopping from time to time to take photos by legendary NYC Celebrity Photographer JOHNNY NUNEZ.
As the weather started to clear, I made my way backstage to the VIP media area to try to gather my notes from the event. As I walked back, I bumped into none other than STYLES P and The Lox. Styles P had recognized me from my recent coverage of his store -Juices for Life. We chatted for a few minutes while we waited for security to open the gate when a golf cart pulled up next to the 3 guys. The driver looked over , signaling Styles P, Jadakiss, Sheek Louch and their 2 photographers to get in as they were up next to perform. Right before the trio hit the stage, they chatted it up under an 8 ft by 8 ft tent with LIL KIM, SWIZZ BEATS, FAT JOE, REMY MA, The ISLEY BROTHERS and the head of the RUFF RYDERS who wore a DMX tee shirt.  As the guys exited the curtains and made their way onto the stage before a crowd of screaming fans, the legendary LOX delivered as expected. They shut the stadium down while performing their greatest hits and also some of DMX's- to pay tribute to the fallen rapper.
Ending the event and wrapping up the night was A BOOGIE who came in a helicopter, dropping from the sky (literally on stage) and brought out CAPELLA GREY.
Not even a Hurricane could stop Summer Jam 2021, as seen by the thousands of Hip Hop fans who gathered in METLIFE STADIUM proved that their love of music was more powerful than any storm.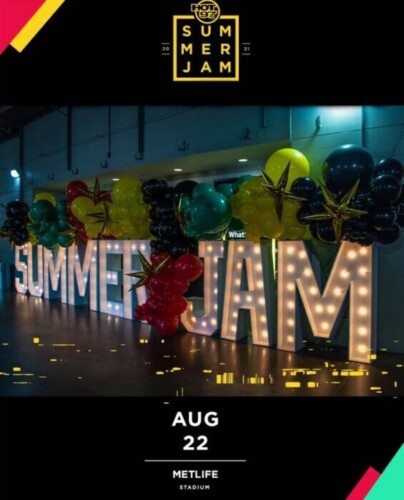 © 2021, Kim Coco. All rights reserved.