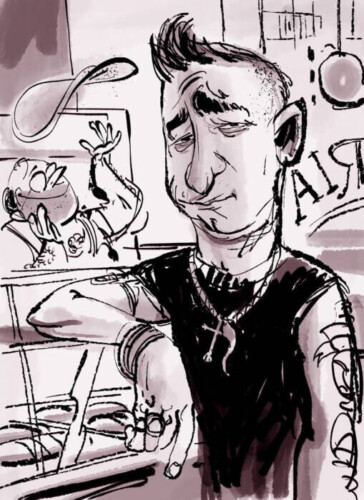 Celestaphone is a renowned American super record producer based in California. He is widely known for his versatility in music production, which leaves his fanbase asking for more.
MC Paul Barman, also known as YOUNGMAN, is an esteemed American rapper known for his illustrious wordplay. He is a highly talented emcee with a knack for writing very complex rhymes. Barman's lyrical expertise is so phenomenal that he even invented a word that is now in the Oxford English Dictionary.
Barman has worked with several prominent rap names, including multiple collaborations with the legendary MF DOOM. The name YOUNGMAN is a character in Paul that formed during one of their conversations.
Celestaphone and YOUNGMAN started working together in December 2019, at a time when COVID was a lesser concern for the world. It's within the same timeline that the rapper-producer duo settled on working on the project "A YEAR OF OCTOBERS."
"A YEAR OF OCTOBERS" is one of a kind music masterpiece that transcends genres through a fusion of punk and hip-hop. The result is a collection of electrifying and thrilling music gems that are taking over the hip-hop airwaves. The masterpiece is a 12-song album that took the two artists extra dedication to ensure its success. Celestaphone has entirely produced the tracks showing his versatility as a producer.
"A YEAR OF OCTOBERS" is a special album to the rapper-producer duo seeking to announce their industry takeover. All the songs were produced and completed during the growing pandemic, making for a highly emotional ride. The recording was done from different remote locations due to the pandemic and produced within the realms of long-distance communications.
With limited gatherings and movements, YOUNGMAN and Celestaphone had to rely on portable computers, interfaces, and performance mics to capture the album. The portable tools aided them to perfection despite operating from non-studio locations. Having the means for continuity of the project during coronavirus cautions and restrictions was a big boost for them. This was despite the fact that the out-of-studio locations deprived them of the extra diligence to execute certain things.
Fortunately, the experience was a whole new musical adventure for Celestaphone and YOUNGMAN. They got a rare opportunity to experience the power of art during times of turmoil and uncertainty. To them, music brought forth a whole new meaning and a strong connection that they aspire to pass to their fans.
The duo is looking forward to a much promising future, with more prolific music releases. The dream is to hit the global stage and gain more listeners.
© 2021, Brauch Owens. All rights reserved.