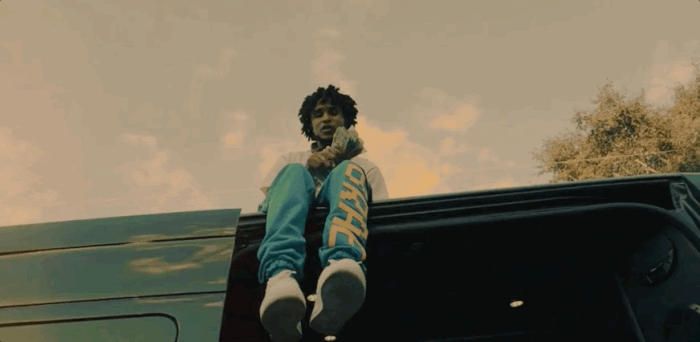 Ready to blow up out of rural Georgia, Chino Cappin has built a devoted fan base through his ability to synthesize street rap and passionate R&B. Exuding confidence while flexing his cash, the Fort Valley native shares "Demon," his new video. Directed by BPace Productions x Goodfellas, the video catches Cappin bouncing between an at-home BBQ with his friends to riding down a Georgia highway while he hangs out the side of a van. Making it known that family comes first, Cappin raps "Middle finger to that girl I know she mad at me / Right there with my daughter where I'd rather be." Chino Cappin may be a hometown hero and an eligible bachelor, but his child and his career come first in his world.
"Demon" will appear on Permanently Scarred, his new project. Characterized by his usual down-to-earth lyrics, the new album follows his recent project Ladders and continues his artistic growth. The upcoming project is home to his recent single, "Til The Morning," a sultry slow jam that was accompanied by a video filled with Casamigos tequila and beautiful women. Permanently Scarred arrives this fall via Alamo Records.
Home to recent videos like the Willie Hutch-sampling "Money On My Mind" and the playful "Still Loading," Chino's recent project, Ladders drips with the bravado of a man confident in his abilities, like on the recent single, "Hot Sh*t" ft. Metro Marrs, but also demonstrates the maturity necessary to describe complex relationship scenarios with relatable lyrics. Ladders is home to highlights like the aspirational "Shine," and the sultry break-up anthem "Fake Love."
Earlier this year, Chino shared F*CC It BaCC To The BasiCs, a new mixtape that finds Chino rhyming over instrumentals from all eras, including samples of songs by Moneybagg Yo, Usher, and more.
With Permanently Scarred, Chino shows that he's ready to explode out of his hometown in rural Georgia and draw new connections between rap and R&B on a national scale.
Watch "Demon": https://youtu.be/BhvWizA85FI
© 2021, Seth "Digital Crates" Barmash. All rights reserved.