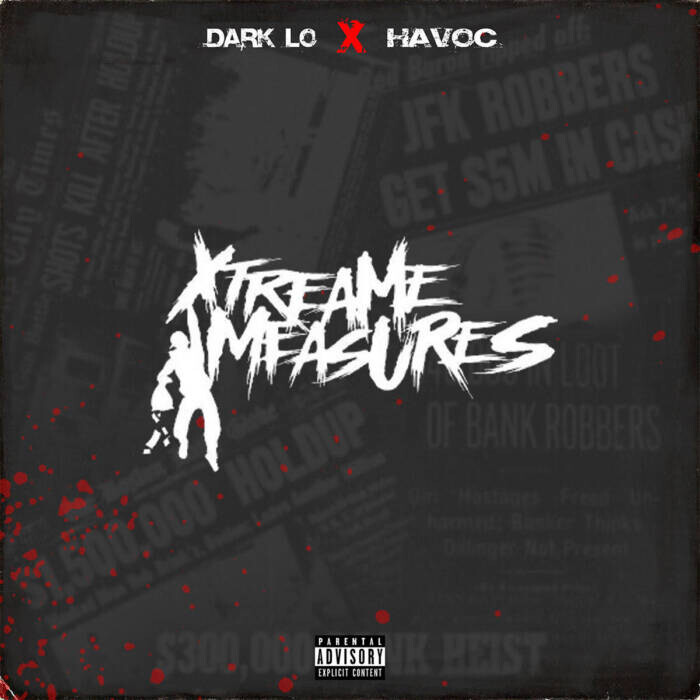 Born and raised in Philadelphia, Dark Lo is best known for bringing his signature gritty delivery and street bars over smooth, soulful production.  Also known as "The Crook", Dark Lo spent the majority of his young adult life in and out of prison.
It wasn't until Lo met AR-Ab that he turned his attention to hip hop.  Despite always having a passion for music, AR-Ab convinced Lo of his talent and he decided to take his craft to the next level.  Over the years, Dark Lo has proceeded to release several acclaimed projects and was named one of Complex's 'Underground Rappers You Should Know'.
Currently, Dark Lo and AR-Ab are embroiled in two high-profile cases, with AR-Ab currently incarcerated with a 45-year sentence after he was arraigned with eight other individuals in October, 2018 on trafficking and distribution charges in Philadelphia.  Dark Lo will begin serving the remainder of his seven+ year sentence for witness tampering on 9-30-21.
With his last project as a free-man, Dark Lo called upon the legendary Havoc of Mobb Deep, who produces all eleven of Extreme Measures tracks and also adds his signature flow and voice on two of them as well.
Today, the duo unveiled their new collaborative project and also released a new visual for "Mob Tales," which can be viewed below.
"Mobb Deep, Havoc, Prodigy (RIP!)-they are some of my rap idols, so it was a great honor for me to be able to work with Havoc on an entire project" Dark Lo commented.  ""This is one of my best pieces of work and it was a pleasure to work with Havoc."
"I'm really hyped about my project with Lo.  I haven't done a lot of collab projects, but out of the ones I've done so far, this is shaping up to be one of my favorites. It's been a minute since I worked with an artist that has such a gritty sound; and that appeals to me" Havoc stated.  "Gritty and grimy is that kinda lane I like to work in most.  Lo, and I lived in that lane with Extreme Measures.  Definitely something the world needs to hear."
Dark Lo x Havoc's Extreme Measures is now available!
You can now purchase, add and stream Extreme Measures at your preferred DSP: https://orcd.co/xtreme
Watch Dark Lo x Havoc "Mob Tales" Video: https://www.youtube.com/watch?v=6aQUr3ZfpI4
Extreme Measures TRACKLISTING
Mob Tales feat Havoc
Lost Innocence
Zombie Land feat Havoc
Extreme Measures feat Styles P
Greatest Ever
Reports
Premonition
Make It Home feat Vado
Force Of Life
Dirty Work
Captivating
Strong Minded
***All Tracks Produced By Havoc
For More Information:
Follow Dark Lo:
https://www.instagram.com/darklo/
Follow Havoc:
https://www.instagram.com/mobbdeephavoc/
https://twitter.com/mobbdeephavoc
© 2021, Seth "Digital Crates" Barmash. All rights reserved.