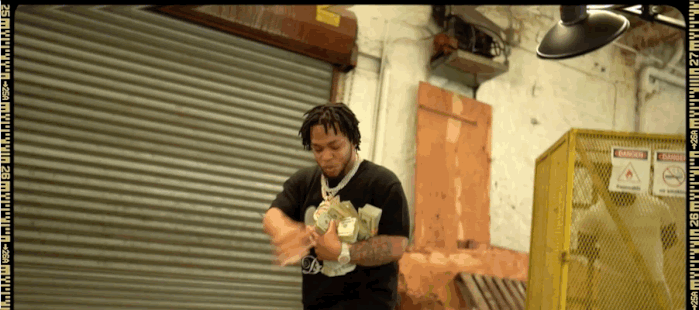 With the emergence of drill music in the five boroughs, Bronx native Don Q has risen to OG status of the street rap scene, proving he can boss up on any sound in the city. Continuing to build momentum in the wake of his recent project, Double Or Nothing, which marked the emcee's return from a three-year hiatus, Don returns again to share new visuals for "Light Today." The track sees Don Q building on the hustler's manifesto he presents in this projects, detailing the many obstacles he faced on the road to success without backing down
The Starr Mazi-directed video shows the Highbridge the Label artist moving through studios, warehouses, and various industrial spaces, putting his hustle in motion as he recounts run-ins with snitches, opps, and gold-diggers. Flaunting the spoils of his exploits with a fat stack of cash that never leaves his side, Don Q leaves no questions about what led him here, rapping, "Bossed up, road to success and I ain't take a shortcut/They know we winning, check the score, n****, this ain't a tossup."
The Bronx-born and raised Don Q came up with the early inspirations of NYC's rawest rhymers like Jadakiss, Cassidy, Fabolous and Jay-Z. After cutting his teeth in the battle rap scene, he made waves in the streets with his mixtapes, eventually landing him a deal with Highbridge The Label in 2016. After teaming with fellow Highbridge rapper, A Boogie Wit Da Hoodie, on the popular Highbridge: The Takeover mixtape, the pair's careers took off overnight, as Don Q caught the attention of a national audience with his highly-regarded Funk Flex freestyle. With mixtapes like 2017's Corner Stories and 2018's Don Talk, he would continue to cement his status in the New York scene.
In recent years, Don Q blessed the streets with more high-profile collaborations, such as "Flood My Wrist," featuring Lil Uzi Vert and A Boogie, which has racked up over 42 million Spotify streams to date, and "Legends" featuring Buffalo-native Benny The Butcher. In 2021, Don reminded his fans that his freestyle game is as strong as ever with recent appearances on Funk Flex, as well as Charlie Sloth's Fire In The Booth. With the release of Double Or Nothing, Don Q put the rap game, in NYC and beyond, on notice that he's leveled up in major fashion. Where he takes it from here, however, is up to the Don.
Watch "Light Today": https://www.youtube.com/watch?v=fcTwdldlDHo
Buy/Stream Double Or Nothing: https://music.empi.re/doubleornothingdon
© 2021, Seth "Digital Crates" Barmash. All rights reserved.