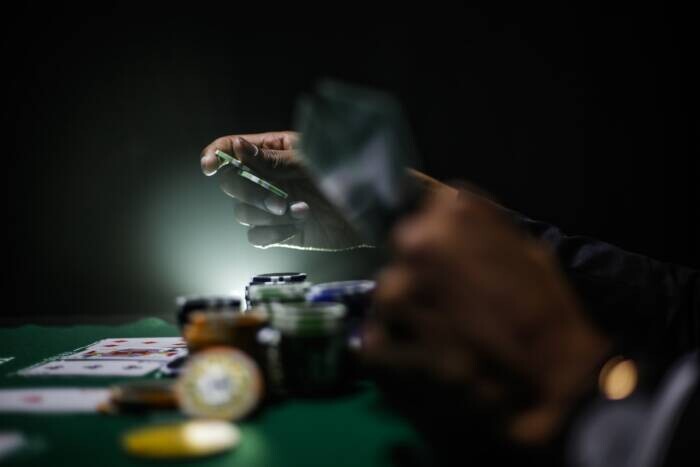 Drake has always had a way of generating headlines whether or not he's on tour or releasing new music. Often enough it's because he's seizing the camera's attention courtside at an NBA game. Recently, it was because Lil Wayne manager Cortez Bryant revealed that Drake and Wayne might be plotting a new tour together (which, to be fair, would set the hip-hop world buzzing). Suffice it to say, the man has a knack for staying in the public spotlight even when it's not about his music.
Over the years, one of the strangest ways Drake has managed to do this has been through his apparent love of poker and gambling. There are a lot of celebrities who are known to enjoy the game, and it's not uncommon to see Drake on lists highlighting these same celebrities. In the case of the beloved Canadian rapper though, there have been a number of side stories connecting him to the game.
Maybe the first story people think of when they hear "Drake" and "poker" is one from Vancouver just a few years ago. According to numerous reports, the many-time Grammy winner was in the middle of a tour and had just finished a show at the Rogers Arena when he tried to get into the Parq Casino for a little bit of gambling. Presumably that meant hitting the poker tables, though in this case we don't actually know — because Drake wasn't actually allowed to play. For reasons that were never really clarified (the artist himself referred to it as "profiling), the casino rejected him. It's the only incident we know of in which a recognizable A-list celebrity was effectively kicked out of a casino without so much as laying a bet.
On a lighter note, Drake is also responsible for one of the more amusing celebrity poker moments we can think of, when as TheBigLead.com put it he "proved what an awful poker player LeBron James was" in a music video. For those who don't remember, Drake's "Forever" video featured a young James during his rise to greatness — part of which, for some reason, involved the basketball star betting big on a pair of fours in an online poker game. For the sake of clarity, Poker.org notes that there's a 49.9% chance of landing any pair in any poker hand (with a pair of fours naturally being on the weaker end of the spectrum). That's not exactly rare in the context of a high-stakes poker game, and betting much of anything on a hand with 50% probability is ludicrous. So, for whatever reason, Drake seems to have blended the game he loves with an athlete he worships in a way that made the latter look a bit silly.
The most recent headlines concerning Drake and poker, meanwhile, served as a nice little glimpse of just-for-fun celebrity happenings a year into a pandemic that's kept us from such guilty pleasures. Per UrbanIslandz.com, the artist recently joined up with Lil Baby and Meek Mill in the Bahamas to gamble over poker "like millionaires" (which of course they all are). Evidently, Drake and Meek Mill were shooting a music video on the islands, but took some time out to get in a little bit of poker recreation. Not bad for a pandemic getaway!
Add it all up and it's a different sort of poker history. Usually when a celebrity is tied to the game, it simply means he or she has been spotted at a few tournaments. In this case, Drake's variety of headlines relating to poker over the years suggests perhaps a more regular interest. In this case, we'd actually buy that poker is a regular part of the artist's life.
© 2021, Seth Barmash. All rights reserved.