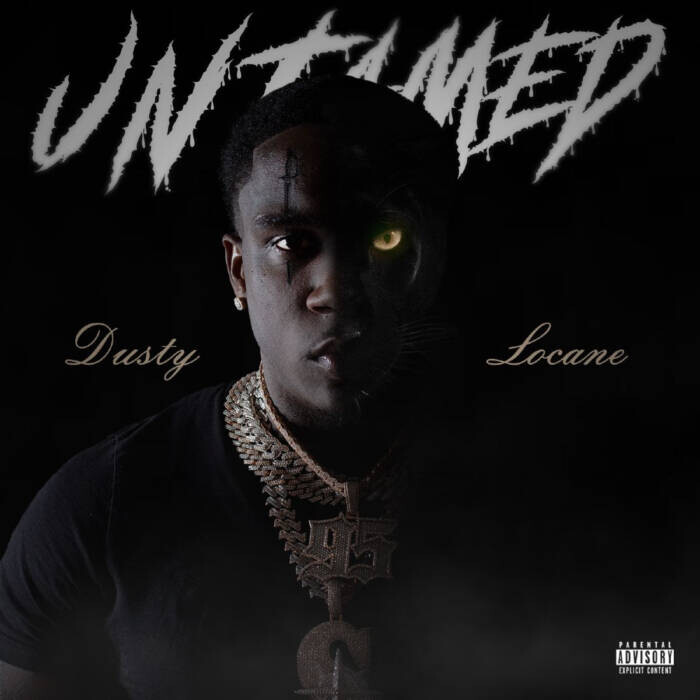 DUSTY LOCANE's booming rasp reverberated throughout the Five Boroughs in 2021, the 22-year-old artist scoring hit after hit en route to over 250 million streams. Now ready to show the world the full extent of his artistic prowess, the Canarsie rapper shares UNTAMED, his hotly-anticipated debut album. Though he rhymes with plenty of force, DUSTY's flavor of drill stands apart because of its deep musicality–DUSTY attacks beats with a sonorous sing-song flow, often backed up by ethereal and haunting vocal samples. Spanning 20 tracks, the album benefits from the artist's stark and aggressive lyricism, as he shows fierce loyalty to his suvies and promises a rough time for anyone who dares cross him.
The new album is home to DUSTY's GOLD-certified breakout hit "ROLLIN N CONTROLLIN FREESTYLE," an eerily melodic banger that generated over 200 million combined streams, as well as follow-up smashes like "Rolando (Caught In The Rain)" and "RUMBLE" that dropped earlier this year and still can be heard blaring out of car stereos from Bed Stuy to Bay Ridge. DUSTY's hit single "ROLLIN N CONTROLLIN PT. 2 (PICTURE ME)" is currently scorching hot on TikTok, trending at #9 on the app's list of Top Trending U.S. Songs. Just last month, DUSTY shared a hair-raising video for "CANES WORLD," as DUSTY opened up about his life in the trenches and his motivations to leave that life in the past.
Beyond the hits, the project introduces new bangers like the apocalyptic,  guitar-flecked "ICED OUT," the thug love anthem "WHAT YOU NEED," and the Canarsie neighborhood theme song "FLOSS STATE OF MIND." Featuring appearances from Yung Bleu, OBN Jay, Rah Swish, and more, UNTAMED is available everywhere via EMPIRE.
Buy/Stream UNTAMED: https://music.empi.re/untamed
© 2021, Seth Barmash. All rights reserved.